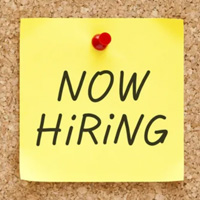 County offices not immune to difficulty in filling vacancies
STORY BY RAY MCNULTY (Week of January 19, 2023)

Local businesses aren't the only employers struggling to find workers, even as the COVID-spawned "Great Resignation" starts to wane amid fears of a recession.
Many Indian River County government departments also are alarmingly short staffed, forcing supervisors and staffers to take on more work.
"We're busting our tails to keep up," Interim County Administrator Michael Zito said last week. "It's a tough situation – being down people and, as the county continues to grow, trying to meet a greater demand for services.
"We have an inordinately large number of vacancies."
As of Monday morning, the Job Opportunities Page on the county's website listed 37 openings, the most prominent of which was the county administrator's position vacated by Jason Brown on Dec. 31.
Brown, 48, worked in several county departments for 25 years and was appointed administrator in 2016. He announced in October that he planned to resign at the end of the year, citing the "stress" that accompanied the position, to take a job as senior accountant in the County Clerk of Court's Office.
According to the listings, the county administrator's job will pay $190,000 to $220,000 annually.
"This worker shortage isn't just a local problem – it's happening statewide and nationally – and it isn't limited to just hourly employees," Zito said. "We're seeing it on the professional level, too."
Among the county's openings was an assistant public works director's job that pays $104,000 to $156,000 per year.
Five other positions had pay ranges that could exceed $100,000 annually – county engineer ($99,000 to $149,000), utilities finance manager ($86,000 to $129,000), project engineer/architect ($82,000 to $122,000), utilities engineer ($82,000 to $122,000), and utilities services asset manager ($74,000 to $111,000).
In addition, the county had well-paying vacancies for an accountant, environmental planner, deputy building official, systems administrator, traffic operations manager, traffic analyst, recreation facilities supervisor/Intergenerational Center and two senior planners.
The listings included hourly-wage positions for two heavy equipment operators, three utility service workers, senior building inspector, senior road-and-bridge maintenance worker, stormwater maintenance worker, and two lifeguards (part time).
Zito said there's a lack of applicants – especially quality candidates – for the open jobs, but he doesn't know why.
"Whatever the reason, we're not getting the volume and quality of applicants we need," he said. "I wish I knew why, so we could address it. But how do you get feedback from people who aren't applying?"
Zito said his staff has examined the county's salary structure and found that the compensation being offered is competitive in today's market.
The county's efforts to address its recruitment issues also include exploring "alternative methods" – beyond simply listing positions on its website – to find job candidates, Zito said, adding that some applicants have told staffers they rarely check job boards and often rely on word of mouth.
For that reason, the county has begun engaging professional associations, utilizing modern search engines on the Internet, scheduling on-campus visits at local high schools and Indian River State College, and participating in job fairs.
"There could be several factors contributing to the problem – housing costs, the modern workforce wanting to work remotely, even compatibility with the area," Zito said.
"Are potential applicants attracted to this area?" he continued. "We're biased because we know what it's like to live here. But is the area a factor? Maybe the demographics of our community?
"We're not just sitting around, waiting for people to apply," he added. "We're being aggressive, looking at everything, kicking around every possibility."
Zito said he's reluctant to increase the salaries being offered for open positions, but the county might need to – if that's what's necessary to attract applicants.
"I know we wear the fiscal conservative badge of honor, but we're looking at that possibility," Zito said. "That said, we can't just throw our pay plan out of whack. It's not fair to the people already here.
"Also, if we react to the political and economic climate we're currently in, we could be in a different climate next year."