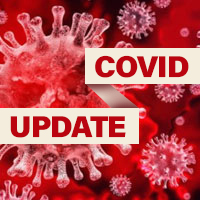 County returns to 'Low COVID' status
STORY BY LISA ZAHNER (Week of January 26, 2023)

There was good news and bad news about the incidence of new COVID-19 infections locally last week – and it was contradictory.
The number of new cases locally reported to the Florida Department of Health was down sharply, falling 42 percent from 169 cases to 98 cases.
But for the same week ending Jan. 18, the Centers for Disease Control and Prevention reported a 21 percent rise in new cases here to 205. Next week's numbers should tell us whether COVID-19 infections in our community are in fact rising or trending downward.
But on the encouraging side, the CDC bumped Indian River County back down into the Low Covid Community Level category marked in green this past week, and the percentage of staffed hospital beds here required by Covid-positive patients decreased slightly to 3.6 percent with 16 people hospitalized locally with Covid, down from 20 the previous week.
Cleveland Clinic spokesperson Arlene Allen-Mitchell reported on Monday "Cleveland Clinic Indian River Hospital has 13 patients in-house Covid positive, and one of the 13 is in ICU." That's the same number of patients as last week.
Three weeks into 2023, the state health department published various COVID-19 statistics for 2022 and the death rate of Floridians from COVID-19 was about half the death rate of the pandemic period as a whole.
From March 2020 to date, 1.1 percent of people who reported a positive test to the health department died from complications of covid illness. For just 2022, the death rate was just .6 percent.
Taking into consideration the number of COVID-19 infections not even captured in the 2022 case numbers due to the proliferation of inexpensive or free home test kits available on the shelf at every drug store and grocery store pharmacy, that reduction in the death rate to .6 percent is very good news, despite the transmissibility of the Omicron subvariants accounting for most of the 2022 cases.
The pandemic-long numbers also include deaths in 2020 and early 2022 prior to the widespread availability of vaccines, and deaths from the deadly summer-to-early-fall 2021 Delta surge in which a CDC study estimated that 1.3 percent of people who reported covid infections died.
Since the start of the pandemic, Indian River County has had 41,827 reported Covid infections and 748 deaths, making the local death rate 1.78 percent – significantly higher than the national figure of 1.1 percent likely due to the county's older demographics.