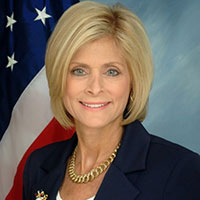 County Supervisor of Elections begins bid for fourth term
STORY BY RAY MCNULTY (Week of January 12, 2023)
Photo of Supervisor of Elections Leslie Swan.

Supervisor of Elections Leslie Swan filed to run for a fourth term last week, saying she wanted to make sure she qualified before embarking on her office's preparations for what is expected to be a huge turnout for the 2024 general election.
"Obviously, I enjoy what I'm doing, but I also wanted to jump in early so I can have all the groundwork for the campaign done and have my petitions approved in advance," Swan said. "I didn't want to have to run an election while I'm running for re-election."
Swan, 63, is a longtime Vero Beach resident who has worked in the county's Elections Office since 2004. She was appointed supervisor of elections in March 2011, when then-Gov. Rick Scott selected her from a field of 13 candidates to replace Kay Clem, who resigned three months earlier citing health issues.
During her 18 years in the Elections Office, Swan has served in various other capacities, including voter outreach coordinator, qualifying officer and assistant supervisor. She has been involved in the planning, management and oversight of 39 elections in this county.
"My goal is to continue conducting secure, transparent and trouble-free elections," Swan said in her announcement.
Swan has earned state and national certifications awarded after completing training programs for elections officials, and she continues to implement innovative ideas and acquire state-of-the-art technology – such as the ballot-on-demand printers at early-voting sites.
The printers allow election workers to print precinct-specific ballots for each voter, eliminating costly ballot inventory that goes unused. Swan is hoping to have the printers at every polling location to streamline the voter check-in process for the 2024 general election.
"Instead of trying to estimate what the turnout will be," she said, "we can just print out the ballots when people come in to vote."
According to her announcement, Swan also "has taken a proactive approach to secure her office's computer networks," including establishing a partnership with the U.S. Department of Homeland Security to conduct cyber risk and vulnerability assessments.
Still, she said, her office is confronted by voters who question the integrity of elections.
"We get those people all the time – some who wonder if the machine is going to flip their votes – because there's so much misinformation out there," Swan said. "But they never have anything to substantiate their claims.
"We test every machine before each election, and we also have an independent auditing system," she said. "We're as transparent as we can be, because we want everyone to have confidence in our elections process.
"My office is always available to the public, so people can observe all facets of the elections process."
In fact, Swan stated in her announcement that her office provides tours for people of all ages, "from pre-school to adults." She also implemented an internship program for high school and college students.
In addition, Swan's office sponsors a "Democracy Days" program in which her staffers visit county schools to educate students about the importance of voting.
"We have a really terrific group working in our office," Swan said, "and the way things are changing with elections, it's good to have a team that knows the job and is committed to doing it well."