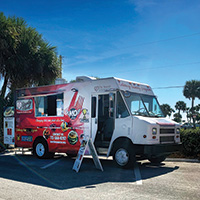 Food truck (temporarily) fills beachside void
STORY BY SAMANTHA ROHLFING BAITA (Week of January 19, 2023)

While the reopening of Jaycee Park's iconic eatery, the Seaside Grill, remains on pause pending county permits, beachgoers this winter will still be able to grab a midday bite to eat.
In the southeast corner of the parking lot, just a few steps from the now shuttered restaurant, a brightly painted food truck is "open 10 a.m. to 4 p.m. seven days a week until the Seaside Grill reopens," according to Tony Zorbaugh.
Next to the truck is a shade canopy and a couple of tables.
Zorbaugh is executive director of The Source, a local nonprofit dedicated to "changing the face of homelessness" by providing job training for homeless individuals, enabling them to "rejoin the community."
When Zorbaugh became aware of the Seaside Grill ongoing opening delay, he saw an opportunity for his organization to fill a community need while offering hands-on job experience for The Source's members. As a bonus, it's a way for the community to support The Source's mission.
"We put the wheels in motion last summer, but waited until more people were back in town," he said. The truck (one of two, and soon-to-be three, food trucks The Source operates) has been open since last week, manned by two of the nonprofit's members, students of it's culinary arts training program.
Meanwhile, Andy Studebaker and partner Wiley Wong (AG Ventures), experienced restaurateurs with several operations in South Florida who have taken over the Seaside Grill, await word from the county on permit applications.
Although the Seaside Grill is within the city limits, Vero Beach doesn't have a building department, so all permitting goes through the county. According to the county's building department, "a few different (Seaside Grill) permits ... are in review."
The popular little restaurant, ideally located just off the beach boardwalk, had stood  vacant since April 2022, when  popular, longtime operators Dan and Rose Culumber  decided  to retire after 3 decades of round-the-clock management of the business.
Late last year, after the anticipated re-opening was first delayed, Studebaker told Vero Beach 32963 that – not uncommon when renovating old structures – issues had been discovered in the roof and the original commercial hood in the kitchen.
Under its new owners, the Seaside Grill's original 2,500-square-foot  footprint will remains virtually the same, as will the seating capacity of 65 outside plus 36 inside.
Echoing the nautical blue-and-white exterior, the inside dining area is already  furnished, and restaurant patrons will continue to have access to the city's Jaycee Park restrooms.
Vero Beach City Manager Monte Falls said the city continues to "look forward to the opening of the Seaside Grill and wish them much success after their extensive renovations.
"Meantime, we are happy to have The Source food truck at Jaycee Park while the Seaside Grill renovations are being completed."