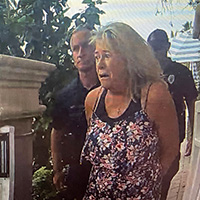 Orchid woman arrested in fatal island crash
STORY BY LISA ZAHNER (Week of January 26, 2023)

More than eight months after the death of 89-year-old John's Island resident Christopher Clark Ingraham from injuries sustained in the two-car crash on A1A in May, a 60-year-old Orchid woman has been arrested and charged with three serious felonies for striking the Ingrahams' car from behind at 87 miles per hour in a 45-mile-per-hour zone and operating a vehicle with an estimated blood alcohol level of three times the legal limit.
Elizabeth Lawrence Jewkes, aka Elizabeth Danielsen, was surprised by police on Jan. 19 while sunning herself at her condo's swimming pool. Officers first went to her residence in the Orchid Island Golf & Beach Club with the help of security, and found her husband Paul Danielsen in a swimsuit with a blue-and-white striped towel wrapped around his waist but Elizabeth Danielsen not at home.
Paul Danielsen, a California attorney, asked Capt. Al Iovino about the charges being filed against his wife and discussed the logistics of her turning herself in. Iovino explained that she would need to spend the night in jail, waiting for her first appearance the next morning. When Danielsen inquired about his wife's blood-alcohol level at the time of the crash, and Iovino told him it was upwards of .15 (.08 is Florida's legal limit), the lawyer lowered his head and covered his face.
Police bodycam video obtained by Vero Beach 32963 depicts Danielsen telling Iovino he would need to go find his wife, but, based upon her husband's swimming attire, Iovino suspected that the woman was either at the pool or at the beach.  He asked Orchid security for directions to the beach, but first checked the pool area. A neighbor helped police gain access to the gated residents-only pool.
Elizabeth Jewkes aka Danielsen was spotted poolside lying face down, but her blonde hair matched the description the officers had to work from. Iovino called out her name and asked for her identification, which showed the name Elizabeth L. Danielsen since she'd taken her longtime husband's last name only in November.
As Iovino explained what was happening, he handcuffed the woman's hands behind her back and read her Miranda rights. The tan, blonde woman seemed totally stunned and horrified that she was being arrested and charged with crimes for her alleged reckless behavior from eight months ago.
Meanwhile the widow Frances Ingraham, 82, who was seriously injured in the crash, plus the Ingrahams' friends, family and John's Island neighbors have been following the case intently, including the news last month that the Shores' police expected to make an arrest in January.
Dressed in a black one-piece swimsuit plus a floral-print coverup, Elizabeth Danielsen was hauled out of the pool area in handcuffs, then walked across the parking lot and helped into the back of the police cruiser, with her neighbors watching. Her husband went upstairs to get her some "warm clothes" for her night in jail.
When the back door to the police car opened, it triggered an internal video camera with audio, which captured Elizabeth Danielsen's entire ride to the Indian River County Jail. Now inside the police car, still disoriented, Elizabeth Danielson cried, "What? What is going on?" and muttered the beginning of Psalm 23, "The Lord is my shepherd, I shall not want. He makes me lie down in green pastures" over and over again.
When Paul Danielsen returned to the police car with clothes, Iovino allowed him to tell his wife good-bye, advising him that everything he said was being audio and video recorded.
Danielsen told his wife that he'd already called defense attorney Andy Metcalf, that she would have a first appearance before the judge at 8:30 the next morning and "should be out by noon." He advised her not to speak to anyone and not to get in any fights, emphasizing that she should watch her temper.
While detained, Danielsen complained that the handcuffs hurt and howled in pain when the police car hit a speed bump. Upon exiting the vehicle at the county jail, she explained that she had "a rod in her leg," which police reports indicate was the result of a fractured right tibia and fibula from the crash.
With her Mercedes' data recorder clocking her speed at 93 miles per hour "at 100 percent acceleration" – meaning she was not braking,  just prior to the crash – she was not wearing her seat belt, but luckily the driver-side airbags deployed.
Residue on those airbags, plus the car's data recorder, provided valuable evidence that helped police proceed with seeking charges against Elizabeth Danielsen after she was found in the passenger seat and denied being the driver of the car, saying her husband had been driving but that he went home or left with a neighbor.
The car's computer said the passenger seat was empty, and DNA taken from the airbags matched Danielsen's DNA that police obtained via a court order.
From blood that was drawn at Lawnwood Regional Medical Center, where Danielsen was taken for her leg injuries, police were able to get the blood toxicology screen report translated into blood alcohol level which is used for determining impairment. The hospital lab results converted to a blood alcohol level of .246 indicating that Jewkes-Danielsen was operating her vehicle with slightly more than three times Florida's legal limit of alcohol in her blood.
Four eyewitnesses came forward to say they saw two vehicles speeding northbound up A1A at the time of the crash, passing at least two cars in the center lane which has double-yellow no-passing striping. Apparently, from the crash study, Jewkes aka Danielsen was trying to pass another car but a vehicle was blocking her way in the center, lefthand turn lane, so she corrected and hit the Ingrahams' Lexus near the Bermuda Bay entrance.
The combination of the high rate of speed, the level of intoxication and the reckless driving when the Ingraham's car was struck from behind met the criteria for three serious felony charges.
Jewkes aka Danielsen was charged with two second-degree  felonies related to Christopher Ingraham's death – Vehicular Homicide and DUI Manslaughter with a BAC of .15 or above. She also faces a third-degree felony charge related to Frances Ingraham's injuries – DUI with a BAC of .15 or above causing serious bodily injury. If Jewkes aka Danielsen is found guilty on all counts, each second-degree felony is punishable by up to 15 years in prison plus a fine of up to $10,000. The third-degree felony is punishable by up to five years in prison plus a fine of up to $5,000.
Jewkes aka Danielsen was released from the Indian River County Jail on $150,000 bond. She is banned from contact with the family of Christopher Ingraham.
Other conditions of Jewkes' AKA Danielsen's release include wearing a GPS monitor; meeting with a court probation officer in person weekly; not consuming or possessing alcoholic beverages or going to a place where the primary product sold is alcohol; not taking non-prescribed drugs; random alcohol and drug testing and not leaving the geographic area of the 19th Judicial Circuit (Indian River, St. Lucie, Martin and Okeechobee counties) except for work, a medical emergency, or by court order.
Should she violate any of these conditions, she will be arrested and jailed.