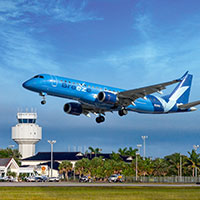 Paid airport parking could be needed if Breeze Airways is big hit
STORY BY RAY MCNULTY (Week of January 26, 2023)

Breeze Airways' first commercial flight into Vero Beach next Thursday night is a sellout – and more are expected.
"Breeze representatives have repeatedly told me that ticket sales for flights into and out of Vero Beach have been more robust than they expected," Vero Beach Airport Director Todd Scher said last week. "They're not only happy with the early response, but they're also excited about their future here."
The low-fare carrier announced in October it would begin offering passenger jet service – connecting Vero Beach to Hartford, Conn., Westchester County, N.Y., and Norfolk, Va. – starting on Feb. 2, and airline officials said they would add flights and routes if Breeze's initial service is successful.
That success, however, could prompt airport officials to consider charging Vero Beach passengers service fees and installing a paid-parking system to generate revenue to cover the costs of future expansion of and improvements to the city-owned facility.
Scher said City Manager Monte Falls asked him to project what changes might be needed if Breeze is as successful as airline and airport officials hope, and he gave him a list that included paid parking.
"There are no plans in place to do it, and at this point, it's not even being considered," Scher said. "It's just something we might need to consider in the future, depending on what happens with Breeze. It'll come down to the numbers."
Is there a number that would trigger those discussions?
Scher said a consultant has been asked to recommend a demand threshold that would prompt the construction of additional lots.
The airport's free common-use lots currently offer less than 200 parking spaces, which are also used by C.J. Cannon's restaurant, located inside the terminal building. Avis Car Rental leases 17 spaces for its vehicles.
The largest jets Breeze will initially fly into and out of Vero Beach have 126 seats.
"If we ever get to the point where we can charge – and it makes sense to do so – we'd need to build additional parking facilities to accommodate whatever that number is," Scher said. "But you've got to have a certain number of travelers willing to pay to park before it's feasible to start charging them.
"In the past, our consultant has told us that if an airport that offers free parking starts charging for it, you're likely to lose customers," he added. "I'm sure free parking made Elite's prices attractive to some people."
Elite Airways began offering non-stop jet service between Vero Beach and Newark, N.J., in December 2015, then added flights to Portland, Maine, Westchester County and Asheville, N.C.
But the boutique airline hasn't flown since June 30, and Scher doesn't know when, or if, it will resume operations here.
If Elite does return – and two commercial airlines are operating at the airport – the parking situation might need to be addressed sooner than expected.
But not necessarily.
"The dynamics here are a little different than they are at bigger airports, especially the major-market airports," Scher said.
"A lot of the passengers we see here get dropped off. They don't leave their cars.  But that was with Elite," he added. "We'll just have to wait and see how it goes with Breeze."
As for how much the airport might charge to park, Scher said that amount would be recommended by the consultant.
The service fee for departing passengers, however, would probably be $4.50 per traveler, Scher wrote in a memo to Falls. But he said it would only be imposed if Breeze reached 20,000 departing passengers per year.
The city also plans to make improvements to the airport's terminal building to make it more welcoming.
"We're poised at the edge of a period of time to watch and see what dictates our next move," Scher said. "These next few months should be interesting."
The city already has embarked on its plan to transform two banquet rooms at C.J. Cannon's into an indoor baggage-claim area. "The city didn't take away those rooms," Scher said. "Cannon's wanted to get out of the banquet business, and we wanted the space. So, they'll get a reduction in rent, and we'll get the indoor baggage-claim area we need."
Meanwhile, in a text-message exchange last month, Elite president John Pearsall told Vero Beach 32963 he expected the airline to resume service during the first quarter of 2023. He stated that he would make an announcement "right after New Year's."
As of Monday, Elite had made no announcement, and Pearsall had not responded to multiple messages left on his cellphone the past two weeks.
Scher said he briefly spoke with Pearsall last week and was told Elite still plans to resume service to and from Newark and Portland, "but he didn't give any time frame."
Elite owes the Vero Beach airport more than $6,600 in overdue fees – something Scher said Pearsall didn't mention during their recent conversation.
The city will not allow the airline to use its terminal facilities until it pays the fees and provides proof of insurance.
If Elite does resume its Vero Beach service, Scher said the airline must schedule its flights around Breeze's operations to avoid backups at the Transportation Security Administration's single-lane checkpoint.