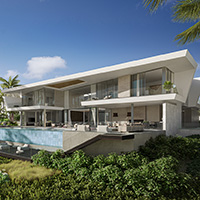 Planned estate's $60 million price tag raises Vero's profile ever higher
STORY BY STEVEN M. THOMAS (Week of January 26, 2023)

In a mere 10 years, Vero Beach has gone from a quiet retirement community dismissively called "Zero Beach" by some to national and even international renown, widely known to wealthy homebuyers and superstar brokers in New York, Miami, Los Angeles and London as the Hamptons of Florida.
Evidence of Vero's continued ascent into the real estate stratosphere came last week when a Miami development team announced plans for $60-million, ultra-luxury spec home at 2040 S. A1A in the Estate Section south of The Moorings.
The home, called Villa Paradiso, is being co-developed by Haute & Boss, a Miami-based construction management and development firm, and Nathan Sax, who the Wall Street Journal identifies as a South Florida developer.
The 21,000-square-foot, tropical-modern estate will be the highest-priced property ever listed north of Palm Beach, according to Ander & Co., the well-oiled public relations firm supporting the project launch.
Indeed, $60 million is more than twice the record price paid for a house in 32963 – but the developers are confident they can make a market for the home they have designed, betting  heavily on the allure of Vero Beach to bring in buyers.
The press release announcing the project – which will hit the MLS this week – actually begins with a paean for Vero, which it calls "a highly-lauded coastal destination ... and hidden gem on Florida's Treasure Coast that attracts millionaires, billionaires and celebrities alike due to its ultra-exclusivity and luxury of small-town charm."
Only after that does the release spell out the impressive details of the sprawling oceanfront estate.
How much the house ends up selling for remains to be seen but the developers picked the right neighborhood to try for a record.
Known by several names over the years – Kansas City Colony, the Cobra Zone and more recently the Estate Section – this bucolic 1-mile stretch of the south island has been the site of an astonishing real estate transformation.
Starting a mile south of The Moorings and extending to the St. Lucie County line, the 21-lot subdivision has gone in a short period from being a windswept stretch of sand dunes to a neighborhood of "fabulous mansions," in the words of Indian River County Property Appraiser Wesley Davis.
The most expensive house ever sold in 32963 – 1920 A1A, which closed for $27 million in 2021 – is three doors down from Villa Paradiso and there are at least eight houses in the oceanfront section that would sell for $30 million to $40 million or more if they came on the market today, according to ONE Sotheby's agent Richard Boga.
"There is nothing else like it on the east coast of Florida," Davis said.
Lots as large as 6 acres, some ocean to river, cater to wealthy buyers' post-pandemic desire for privacy, security and expansive personal space.
Add in wide, uncrowded ocean beaches, the wonders of the Indian River Lagoon, and proximity to Vero's famous Village by the Sea with its boutiques, restaurants, resorts and cultural venues, and the Estate Section is the right place to push the residential real estate envelope.
"Markets like Palm Beach and Miami have become overcrowded and can't offer the same kind of idyllic enclave that Vero Beach can," Victor Hernandez, principal of Haute & Boss, told Vero Beach 32963. "The city is consistently named one of the top 10 happiest seaside towns in America."
Of course, Hernandez is banking on the quality of his product, too.
"The property is spectacular, set apart by the unspoiled, pristine, raw beauty of the ocean, and Villa Paradiso will represent a pinnacle of luxury never before seen in Vero Beach, while striking a balance between its relaxed oceanfront setting and upscale lifestyle experience," Hernandez said.
The estate was designed by Choeff Levy Fischman, a Miami-based architecture studio with an incredible portfolio of dramatic and exquisite modernist homes, mostly in Miami Beach.
The firm's renderings of Villa Paradiso evoke a residential ideal as much as a specific structure, showing a beautiful, four-building compound in a style that somehow makes poured concrete roofs and cantilevered  sections appear light and airy, floating atop glass partitions.
The 14,669-square-foot main house, which will sit on a 2.5-acre lot with 155 linear feet of ocean frontage, comes with 11 bathrooms and eight bedrooms – including an 1,850-square-foot owner's suite.
The 2,300-square-foot guest house has more bedrooms and bathrooms and a second "gourmet kitchen," and there is a 2,200-square-foot standalone spa, gym and wellness center with fitness, yoga, treatment and massage rooms, a gym lounge and bar, cold-plunge pool, sauna, steam room, 1,000-square-foot workout terrace and Zen waterfall wall.
There is a guardhouse at the entrance, garage parking for 14 vehicles, and three swimming pools – a 60-foot, oceanfront infinity pool, a lap pool and yet another pool at the guest house, just in case.
The balconies, patios, decks and other outdoor space would make a Ritz Carlton blush.
The project has been in the works for a while.
Sax bought the property for $3,465,000 in 2018 and Haute & Boss pulled a perimeter retaining wall permit in 2020 that was inspected and approved by the county in October.
The thick concrete rectangular wall structure, which is waterproofed up carefully calibrated levels all around the inside of the rectangle, will contain the many truckloads of fill brought in to raise the main house 25 feet above sea level and give it the most sweeping possible views of the Atlantic Ocean and Indian River Lagoon.
Hernandez has the rest of his building permits in hand and construction will gear up soon.
Hernandez told Vero Beach 32963 he expects the project – which is customizable for an early buyer – to be complete in "late 2024 or early 2025."
He said Villa Paradiso will be listed in the MLS this week for $60 million but that he won't be working with a listing agent.
"We are handling offers and information requests in-house," he added. "The property will be marketed to ultra-high-net-worth individuals who desire to own an exceptional oceanfront property in Florida."
Project marketing is off to a good start, with details of the estate reported in the Wall Street Journal – which broke the story last week – Forbes, The Real Deal and numerous other publications read by real estate aficionados.
"This home will cost two-to-three times more to build than anything that's been marketed in Vero Beach due to the extremely high level of detail, exceptional design quality and vast size," Hernandez said when asked about the record-breaking listing price.
"In other Florida markets where we build, which include Miami, Golden Beach and Palm Beach, there is very limited product of this scale due to less available land and more density. That is another reason why they are highly sought by the discerning few – because one can own something that most others do not possess."