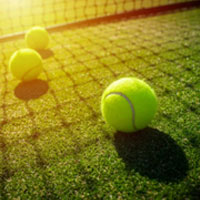 Pros headline King of the Hill tourney
STORY BY RAY MCNULTY (Week of January 12, 2023)

There was no reason for former tennis star Mikael Pernfors to feel anxious, playing in a local charity doubles tournament against three other teaching pros last year.
But he was.
More than 40 years after hitting his way into the top 10 in the world rankings and reaching the 1986 French Open final, the longtime Vero Beach resident couldn't help but try to calculate whether he had won enough final-round games to take the trophy at the annual King of the Hill event.
"I find myself coming out here to have a good time, and I had a great time," Pernfors, now 59, told the crowd after winning the 40-and-over division title last winter. "But I start counting games and I get nervous, which I guess means I love this game."
Pernfors is back in the field for the 28th annual King of the Hill tournament, scheduled to begin next Thursday (Jan. 19) at The Boulevard Tennis Club with first-round play in the 16-player Open Division.
The event also features competition in the 40-and-over and 50-and-over divisions, both of which have eight players, and will continue weekly through the Open Division final on March 2.
The 40s division semifinals are set for Jan. 26, and the 50s semifinals are scheduled for Feb. 2.
Adult admission for the event is $10 for early rounds and $15 for the finals. Children will be admitted free of charge. Tournament proceeds go to the Youth Guidance Mentoring Academy in Vero Beach.
Among the pros entered in the round-robin-style tournament are:
• OPEN: Slim Hamza (The Moorings); Christian Docter (Sea Oaks); Pavel Zhdanov and Anton Loef (John's Island); Kainoa Rosa, Ching Wang and Erik Turnquist (Orchid Island).
• 40-AND-OVER: Lennart Jonason (John's Island); Billy Almeyda (Sea Oaks); and Pernfors, who will be representing The Boulevard.
• 50-AND-OVER: Joe Biedenharn (Sea Oaks); Henner Lenhardt (Aquarina, Melbourne Beach); Tim Brueggeman (formerly of John's Island); Emile DeCuba (Ocean Village, Fort Pierce); and Ed Shanaphy (The Boulevard).
"As always, the pros are there for us, and we continue to get new faces who want to support this event," said Gigi Casapu, the longtime Vero Beach teaching pro who founded the wildly popular tournament in 1996 and currently serves as the tennis director at Cascades in Port St. Lucie.
"The commitment to the King of the Hill keeps getting passed down from generation to generation," he added. "It's really something special."
Just ask Pernfors.
"It's a wonderful event," he said in his 2022 victory speech. "What you've been able to do here, Gigi, is amazing."