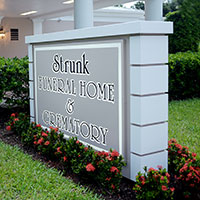 Strunk Funeral Home owners seek to disqualify circuit judge
STORY BY RAY MCNULTY (Week of January 5, 2023)

The owners of Strunk Funeral Home & Crematory are asking an appeals court to disqualify Circuit Judge Janet Croom from presiding over "any further proceedings" in the company's legal battle over ownership of the properties on which it conducts business.
In its filing with Florida's Fourth District Court of Appeal in West Palm Beach just before the holidays, Strunk claims Croom's relationship with two Vero Beach attorneys connected to the case puts her ability to be impartial in question.
The appeal was filed two weeks after Croom – without explanation or comment – denied a Strunk motion accusing her of being "biased" and requesting that she recuse herself from the case.
Croom issued her denial less than three hours after the Strunk motion was filed on Dec. 8. A week earlier, she ordered the company to post a $3.1 million bond within 20 days and pay into the court registry $25,800 per month in rent until the case is resolved.
In the latest development, though, Croom granted Strunk's request to give the company until Jan. 6 to post the bond. By then, though, the owners had already filed their appeal in West Palm Beach.
The appeal is the latest twist in a multifaceted case in which Strunk president Mary Strunk Kopchak and her siblings are challenging Millennium Funeral Home's ownership of the properties on which their business operates.
Kopchak is the daughter of Glenn Strunk, who owned and operated the funeral home for 47 years before his death in February 2020.
Attorney Richard Sneed, who represents the Strunk owners, did not respond to messages left at his office.
Vero Beach attorney Louis "Buck" Vocelle declined to comment on the appeal, but Millennium owner James Young Jr. called it a "another delay tactic" in a case that has been ongoing since March 2020.
"We've been dealing with this for almost three years," Young said, claiming that Strunk owes him nearly $600,000 in back rent. "But we'll be the prevailing party in the end."
In Strunk's Dec. 8 motion, Kopchak claimed in a sworn statement that Croom's conduct and comments during a Dec. 1 hearing, which lasted more than eight hours, caused her to question the judge's impartiality and doubt whether the company would be treated fairly at future hearings and if the case goes to trial.
Kopchak accused Croom of implying that her testimony during cross-examination was "being coached," and scolded her and Sneed in a "very derogatory, condescending and pejorative tone."
She also alleged that Croom "advocated" of behalf of one attorney during questioning, and seemed to favor another attorney throughout the hearing.
Kopchak goes on to state that her concerns about Croom's actions prompted her to make inquiries into the judge's relationship with Vocelle, who is representing Millennium.
Those Dec. 2 inquiries, Kopchak claimed, revealed Croom previously had worked at Vocelle's law firm, and that his firm once represented in a lawsuit a redevelopment company in which the judge's husband, David, was a partner.
She also claimed to have discovered that local attorney George Collins Jr., a material witness in the Strunk-Millennium case, is a partner in a law firm that represented Croom and her husband in a real-estate matter.
Kopchak stated that Croom did not disclose those possible conflicts to Strunk, and Strunk repeats that claim in its appeal, which also seeks to maintain the existing lis pendens – legal notice that a lawsuit has been filed disputing ownership of the properties.
Under Croom's order, the lis pendens will automatically be discharged if Strunk fails to submit the bond payment to the Clerk of Court's Office within the allotted time.
If the lis pendens is discharged, Young would be free to sell or lease the property, if he so desired. "It's good for our case because it allows Jimmy some flexibility," Vocelle said after Croom's ruling.
Croom said the bond amount was "supported by the evidence,"and was equal to the price Young paid to purchase the Strunk properties from Glenn Strunk's widow, Dorothy, in June 2021.
Two days before his death, Glenn Strunk gave the business to his three adult children, who claim their stepmother didn't have the legal authority to sell the properties. Dorothy Strunk died this past May, and there was no mention of her stepchildren in her paid obituary.
As for the rent, Croom said she determined the amount based on "competent, substantial evidence" and it isn't speculative.
She said the bond and rent amounts are "reasonable," based on the damages Millennium has shown will likely result if the court rules the lis pendens was "unjustified."
If Millennium wins the case, Young would not be entitled to the entire $3.1 million, "but he would be able to file a claim against that money for damages," Vocelle said.
He added Croom "wants this case to go to trial sooner rather than later."
Vocelle said he was hoping to go to trial as soon as March, but that was before Strunk filed its appeal.
Young, meanwhile, said he doubts the Strunk siblings can come up with the $3.1 million to post the bond, adding, "If they can't post the bond, we'll move forward with eviction. … They're squatting on my property, but the judge's order delivered a big hit."
Dorothy Strunk attempted to resolve the property-ownership dispute in March 2020, when she took the matter to court where she opposed her three adult stepchildren: Kevin and April Strunk, and Kopchak.
However, County Court Judge Robyn Stone dismissed the case in May 2021 for "lack of prosecution."
The Strunk siblings argue that the disputed properties were jointly owned by the business, because business operations covered the costs of their acquisition, maintenance and capital improvement, as well as expenses such as taxes, insurance and debt service – even though the properties were titled in the names of Glenn and Dorothy Strunk.
They contend that Dorothy Strunk was aware of, participated in and benefitted from the arrangement, which had been in place since 1981, and therefore knew she didn't solely own the properties she sold to Millennium to enrich herself at her stepchildren's expense.
Young continues to defend his purchase, saying Dorothy Strunk alone held the title to the properties after her husband's death.