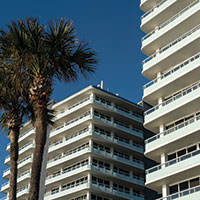 Surge in condo prices on island currently outpacing single-family homes
STORY BY STEVEN M. THOMAS (Week of January 5, 2023)

The overall housing market has cooled considerably since the peak of the pandemic boom, but condo prices on the island and mainland continue to show strong price appreciation, outpacing single-family homes, according to brokers and online data.
All the stats haven't been compiled for December yet, but in November the median price of a condominium in 32963 was up 34 percent compared to a year earlier, from $540,000 to $725,000, while houses were up only 11 percent year-over-year.
Countywide, median condo sales prices in November were up a whopping 54 percent, year over year, while house prices were flat, according to ONE Sotheby's most recent market report, which zeros in on counties and select zip codes from Miami to Jacksonville.
House prices are still up year over year, too, but they declined slightly month to month during late summer and fall, so they aren't keeping pace with condos – which have more than doubled in value in the past two years and aren't quite done with their phenomenal run.
Ironically, the epic jump in island house prices during the boom is the main force pushing condo appreciation higher.
A market snapshot provided by Douglas Elliman broker-associate Sally Daley shows the median list price of a house in 32962 last week was $1,950,000 while the median list price for island condos was $789,000.
So, if a buyer arrives from the snowy north with a desire to live on the barrier island but only a million dollars in pocket, condos quickly become an appealing alternative.
"Buyers sometimes come in looking for one thing but their thinking totally evolves when they get familiar with the market and they end up buying something else," said Compass team leader Scott Reynolds.
That could mean shifting focus to upscale mainland subdivisions to find a desirable house they can afford, or it might mean getting in an elevator and riding up to the top floor in a condo to see what life looks like from up there.
"I call it Plan B," said Daley. "And it is becoming more popular as the price delta between fully detached and condos grows."
"ONE Sotheby's has seen an increase in condo sales and prices," agreed ONE Sotheby's broker-associate Bobbie Holt.
"Usually the condo trigger depends on the importance the buyer puts on location," Reynolds said. "If they want to walk to everything and be in Central Beach but don't have the budget for that – by the time they buy a house and fix it up – they realize can get a like-kind condo for substantially less.
"That is especially true for buyers who only plan to live in Vero for three or four months a year," Reynolds added. "They see that a condo will get them on the ocean or in Central Beach or someplace else where they might not be able to afford a house and that it will work for them on a seasonal basis."
At some point price and lifestyle cross paths and the buyer finds the home that suits them.
A house typically provides more space and privacy, but condos come with a convenient "lock and leave" lifestyle and a range of community amenities that often includes ocean views that can be hard to come by in a house.
"With condos you are getting less of a real estate footprint, but you are getting a premium location and a lower price because 50 or 100 people are sharing in the cost of the oceanfront property and property insurance," Reynolds said.
Illustrating that point, Holt told Vero Beach 32963 that oceanfront condos currently start at $395,000 and go up to $3,995,000, while oceanfront houses on the island start at $3,995,000 and go up to $27 million.
A report based on MLS data provided by Reynolds shows there were 62 condos available on the island in November, including 42 under $1 million. By last week, condo inventory was up to 87, according to Daley.
That gives buyers a fair number of choices, but the inventory is still squeaky-tight compared to pre-pandemic norms, which is another factor in condo price appreciation
"For someone whose budget was $500,000 or under, there were only 13 condos to look at in November," Reynolds says. "A buyer looking in the $500,000 to $750,000 range had 15 or 16 choices. I think that scarcity has helped condo prices stay strong."
Condos account for about 35 percent of sales closed by The Reynolds Team at Compass, so Reynolds is familiar with the genre. He said popular complexes include The Spires, Sea Cove and Blue.
"The Spires is always popular, right on the oceanfront with great views and a nice oceanfront pool, very sought after because of its location. You can go right downstairs and have a cocktail at the Vero Beach Hotel and Spa," and Spires residents can walk to all the shops and restaurants in Central Beach.
Sea Cove is next to a beautiful beach park with lifeguards on a wide, accreting beach right across the street from a row of restaurants that range from fine dining to a popular pizza place.
Blue at 8050 Ocean is new construction on the ocean, with huge luxury apartments, a clubhouse, gym, pool and putting green.
Blue is one of three new luxury condos under construction in 32963, along with Indigo and Surfsedge, where units go in the millions, which is a third factor buoying condo price appreciation on the island.
The top-priced, $3,995,000 island condo shown in the November report was at Indigo, next to Tracking Station Park, and the second-priciest condo, listed for $3.8 million, was right next door at Surfsedge, in Indian River Shores.
A few sales in that range can push the median island condo price up a fair bit when sales volume is low like it is right now.
Meanwhile, over on the mainland, it is a seller's market for condos in every Indian River County zip code, according to Daley's market snapshot, and condos are outpacing houses in price appreciation in neighboring counties and throughout the state of Florida.
November condo prices were up 53 percent in Martin County and 23 percent in Brevard compared to November 2021, according to the ONE Sotheby's report. House price appreciation was 11 percent in Martin and 9 percent in Brevard.
Statewide, the average sales price of a condo was up 10.1 percent year over year, compared to 5.5 percent for houses.