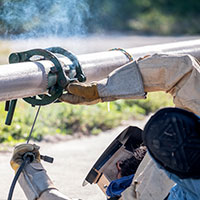 Work begins on pipes that will bring natural gas to island
STORY BY LISA ZAHNER (Week of January 12, 2023)

Florida City Gas began laying pipe last week alongside the Wabasso Causeway to bring natural gas service over the next year and a half to residents potentially as far north as Windsor, and as far south as the Vero Beach oceanside business district.
It will take about two months for Peninsula Pipeline Company to connect the mainland gas supply with distribution lines on the northern part of the island, and the A1A piping project should reach Indian River Shores sometime in the next month, said gas company spokesperson Briana Soriano.
"From the main line, Florida City Gas will begin its expansion throughout the island and to interested neighborhoods and will continue for at least four years following the completion of the PPC mainline.
"We currently have plans to expand service to the new Seaglass development by GHO Homes, and we are targeting new construction projects in and around The Strand development," said Marc Seagrave, the director of development and business strategy for NetEra Energy Inc., the parent company of Florida City Gas as well as Florida Power & Light.
Florida City Gas already has franchise agreements with Vero Beach and Indian River County. Next to negotiate an arrangement will be the Town of Indian River Shores. The Town Council had asked gas company officials last spring to come back when they had all of their permits in place.
Indian River Shores Town Manager Jim Harpring said he and the town's building official and attorney have been closely working with the gas company on permits for equipment on town property.
"Meanwhile, Florida City Gas continues to receive requests for natural gas service from residents, neighborhoods and commercial businesses throughout the island. Construction of FCG's gas lines is projected to begin in early 2023 at various locations across the island," Seagrave said.
The Strand will be the first community to be served by piped-in natural gas, as those residents have already been getting Compressed Natural Gas via a mobile unit on-site.
Florida City Gas hopes to have pipe laid south all the way to Christ by the Sea United Methodist Church by March 1. Then in the second quarter of 2023, they should be ready to construct lines to serve the Ocean Drive and Cardinal Drive business district.
In 2024, contractors will return to the Wabasso Beach area to start laying pipe northward to serve the Orchid, Summerplace and Windsor communities should there be significant natural gas buy-in to do so.
"We have secured commitments to serve club houses in several communities in the area, which are major contributors to the feasibility of community projects. Generally speaking, the more residents sign up for service, the more cost-effective installation will be," Soriano said.
The cost to hook up, Soriano said, should be around $80 per home in a community that has decided it wants to bring in gas service. The monthly gas bill will be a combination of a base charge of about $15 plus charges for consumption and fuel cost. The deposit to get service turned on will be two times the typical monthly bill.
Natural gas is measured in "therms" and the average residential customer uses roughly 50 therms of gas per monthly billing cycle, with a range of 25 to 75 therms per month for single-family home. "It's really dependent on how many gas appliances a person has," Soriano said.
"For a typical residential natural gas customer who uses 25 to 75 of therms each month, costs would range from $1.37 per therm to $1.415 per therm, not including other applicable charges, taxes or local franchise fees. This is based on current rates vs. proposed rates as part of our current rate case before the Florida Public Service Commission," Soriano said.
Customers will need to convert their appliances to run on natural gas, or purchase new gas appliances, and Florida City Gas offers rebates for installing, replacing or converting certain home appliances, but the gas company does not perform the conversions from propane to natural gas or electric to gas.
"FCG has a list of recommended vendors who perform this type of work," Soriano said.
No Indian River County contractors are on the list yet, but there are several Brevard County and St. Lucie County firms referred to at the Florida City Gas website. www.floridacitygasrebates.com/find-a-contractor/.
Compared to propane, Soriano said natural gas is much more cost efficient, and more convenient because it's always there, even during and after a hurricane, and does not have to be delivered.
"For propane costs to be comparable, it would have to be priced at $1.255 per gallon and $1.30 per gallon respectively to fuel the same appliances per month.
"However, in discussions with some of our customers, we have found that propane can sometimes cost double the amount of natural gas," Soriano said.