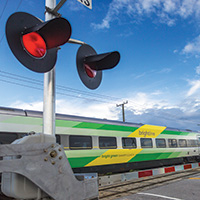 Brightline tests give county taste of speedy trains to come
STORY BY GEORGE ANDREASSI (Week of July 27, 2023)

Brightline blasted its new passenger trains through Indian River County at 110 mph this past week in a test of how things will go when it starts regular service between Orlando and South Florida on Sept. 1.
Brightline ran high-speed trains through 31 of the 32 railroad crossings in Indian River County, excluding only the Roseland Road crossing just south of the St. Sebastian River Railroad Bridge, according to Brightline's most recent construction update.
"We wrapped up the Indian River County testing (Sunday)," said Brightline spokeswoman Katie Mitzner. "The next testing will be Brevard (County), which right now is scheduled for Thursday."
Brightline plans to operate 32 trains per day between Orlando and South Florida, 16 in each direction between the hours of 5 a.m. and 12:20 a.m., starting Sept. 1.  Tickets will sell for $79 and up for adults.
Passenger trains will reach speeds of up to 110 mph in Indian River County, while Florida East Coast Railway operates approximately 20 freight trains per day at speeds ranging from 40-to-60 mph.
Construction began in April 2019 on the $2.8 billion project, constructing high-speed railroad tracks between its West Palm Beach station and a new transit terminal at Orlando International Airport.
Brightline upgraded the FECR tracks from West Palm Beach to Cocoa and built new high-speed railroad tracks along the Beachline Expressway/State Road 528 between Cocoa and Orlando International Airport.
On June 21, Brightline celebrated the completion of construction on the 170-mile-long project.
"Completing this project is the culmination of more than a decade of dedication, determination and hard work," said Brightline CEO Mike Reininger, during the celebration. "We have built something remarkable."
Palm Beach County is evaluating plans for commuter service along the section of Brightline's corridor north of West Palm Beach to Jupiter, according to Brightline's March 2023 bond offering. As many as seven new commuter stations could be built along the route, including in Jupiter.
But the 1,834-page Florida Development Finance Corp. document makes no mention of a Treasure Coast or Cocoa station.
In the past, Brightline has said the location of a Treasure Coast station would be determined by a ridership study to be conducted five years after service starts between Orlando and South Florida.