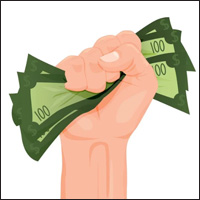 Cash is king in Vero property market – and baby boomers have a lot of it
STORY BY STEVEN M. THOMAS (Week of July 27, 2023)

Cash deals have always led the real estate parade on the island, especially in the upper end of the market.
But now, in the post-pandemic world, pure, unadulterated cash  plays an even bigger role in Vero's property market, flowing more freely on the island and spilling over onto the mainland – and a majority of it is coming from baby boomers.
"Realistically, it comes down to the fact that baby boomers are the ones who have all the money," said Berkshire Hathaway agent Chip Landers.
His statement is backed up by Seniorliving.org, which reports that boomers possess 80 percent of personal assets in the United States, and by The Motley Fool financial website that says boomers have 70 percent of the country's disposable income at their slightly arthritic fingertips.
"It is all cash," said Landers, who does a majority of his business on the mainland. "They cash out in the Northeast, selling their house for $1.5 million, and then come down here and buy for $500,000 and put the rest in the bank.
"Before the pandemic, my business was probably 70 percent financed and 30 percent cash. Today, 75 to 80 percent of my deals are all cash."
Landers is not alone. An interactive, color-coded map created by the Washington Post that shows the percentage of cash buyers by county blankets much of mainland Indian River County with dark shades of brown, indicating cash deals, accounting for 60 percent to 70 percent or more of real estate transactions.
Of course, the 32963 barrier island is the deepest, darkest shade of brown from one end to the other, but the increase in cash is harder to detect beachside because greenbacks already predominated.
"There's absolutely been an increase in real cash buyers from a year or two years ago, when cash wasn't really cash in many cases," said Douglas Elliman broker-associate Sally Daley.
"We always had 70 to 80 percent cash contracts but a good chunk – I'll guestimate 60 percent – were putting cash on the contract to smooth the deal but actually securing cheap financing" at rates below 3 percent, the lowest in the history of mortgage financing.
Facing unprecedented competition for houses, buyers wrote cash contracts to make their offers more attractive to sellers while still taking advantage of rock bottom mortgage rates – a strategy that entailed some risk.
"To offer ...  a contract free of all contingencies after the agreed upon inspection period – 10-15 days typically – many buyers with sufficient resources offered cash with no contingency to obtain financing, but in fact obtained financing to close the contract," Daley explained.
"Anybody who did this, of course, needed to have absolute confidence in their ability to get the loan, and have sufficient reserves to close in the unlikely event the financing was delayed or denied, as the contract would have no safety net to protect them. Once the inspection condition was removed, any contract free of conditions leaves only an obligation to perform on the buyer."
Now, with interest rates two and half times what they were on Jan. 1, 2021, when they dipped to a pandemic low of 2.65 percent, and prices much higher than they were before COVID-19 came along, the average financed buyer is looking at a monthly payment that's double what it would have been in 2019 for the same house.
So cash, if you've got it or can get it from "the bank of mom and dad," has become more popular everywhere. According to the Washington Post, the percentage of cash contracts is the highest it has been in a decade.
Not coincidentally, this flood of cash comes as baby boomers expand their share of the real estate market.
"Baby boomers now make up 39 percent of homebuyers – the most of any generation – an increase from 29 percent last year," according to "Home Buyers and Sellers Generational Trends," an annual report from the National Association of Realtors.
"Baby boomers have the upper hand in the homebuying market," said Jessica Lautz, NAR deputy chief economist and vice president of research. "The majority of them are repeat buyers who have housing equity to propel them into their dream home – be it a place to enjoy retirement or a home near friends and family. They are living healthier and longer and making housing trades later in life."
Boomers – born between 1946 and 1964 – also reaped the greatest benefits of any generation from the biggest bull market ever witnessed on Wall Street. With a few ups and downs along the way, the Dow Jones Industrial Average jumped more than fourfold in the past 10 years and went up 1,000 percent over the past 30 years, from 3,500 in 1993 to more than 35,000 as of Monday, turning a $100,000 Clinton-era investment into $1 million today.
As a result, boomers now possess more than $50 trillion in house wealth, stocks, bonds and other resources, according to Forbes. Other sources put the number at $60-$70 trillion. On top of whichever figure is correct, they are set to inherit another $15 trillion from their aging "silent generation" parents.
And most of that wealth will be passed on to their children and grandchildren – some of it in the form cash allotments used to purchase homes that Gen Xers and millennials often cannot afford on their own.
"Between higher home prices, higher interest rates, higher insurance costs and all the rest, it's tough for younger people to get their foot in the door without help from the bank of mom and dad," Landers says.
"Whether a baby boomer is in the buyer's market looking to downsize or fund a child's purchase, it is this group that has allowed the housing market to remain buoyant," according to a report from nbcnews.com.
"With the pandemic lift in home values, equity-rich boomers are uniquely qualified to remain in the market, regardless of the interest rate environment," says Daley. "There is no doubt that boomers and their wealth create a dynamic that is helping keep the market afloat."
Looking ahead, island brokerages are well positioned to benefit from that dynamic.
Boomers range in age from 57 to 75 this summer. About half of them are 65 or older, with 10,000 more crossing into traditional retirement territory each day.
That is good for Vero Beach because the city attracts way more than its fair share of people 65 and older.
The latest census figures show that 16.8 percent of U.S. residents are 65 or older, but in Florida the percentage is 21.1 percent, the second-highest percentage in the country, after Maine.
And Indian River County far outstrips the state in this category, with people 65 and older making up 35.2 percent of the population, more than double the national average.
The number of 65 and older residents on the barrier island is even higher, estimated now at about 55 percent.
Because Vero Beach has attracted a disproportionate number of people 65 and older in the past – boomers with cash looking for houses – it is likely that trend will continue as the group keeps up its rapid expansion, bringing a steady flow of qualified buyers to real estate offices along Ocean and Cardinal Drives and Highway A1A.