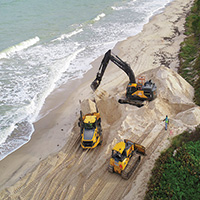 County buoyed by windfall from state for beach work
STORY BY CASEY STAVENHAGEN (Week of July 20, 2023)

State funding to reimburse Indian River County for planned beach replenishment on the island will be more than double the previously expected amount in the coming fiscal year, but the funds must be used by 2025, so work must get underway as soon as possible.
The county is now set to receive $7.7 million instead of the anticipated $3.7 million from the Florida Department of Environmental Protection. FDEP has also waived the requirement for local match funding.
Beach replenishment can be planned and designed now, but construction work can't get underway on the island until after Nov. 1 when Sea Turtle Nesting Season is over. "
Sectors 3, 4 and 5 – spanning from Seaview, north of Windsor, south to the Riomar golf course in Central Beach – will receive $2.6 million, $2.3 million and $885,600, respectively. The funding also allocates $1.8 million for Sector 7 beaches, though the planned project for that South Beach  area has been scrapped and the funds will likely go unused.
Sectors 1 and 2 – running from Sebastian Inlet to Seaview – are also funded by FDEP, though in a separate grant as the Sebastian Inlet District manages those sectors. The funds there also doubled from about $335,000 to $690,000.
Sector 3 in Windsor, Orchid, Wabasso and Indian River Shores and Sector 5 in the City of Vero Beach are deemed to be critically eroded, and any projects pursued along these sections could also qualify for additional Federal Emergency Management Act funding, if necessary.
County engineers say the 2025 deadline for spending the state grant money is ample to design and execute the projects – as long as the county does not run into difficulty obtaining easements from residents.
South Beach residents refusing to sign easements for dune replenishment have delayed getting sand on Sector 7 beaches for years, leaving that area vulnerable to millions of dollars of damage from erosion each storm season.
Only 67 percent of property owners signed the required easements, with 85 percent the threshold for moving forward with the work.
Sector 4 from John's Island to Tracking Station Beach will need to hit a similar target mark of easement signatures for work to begin on its restoration project, which is anticipated to cost nearly $6 million.
The Town of Indian River Shores saw its beaches severely chewed up by last summer's storms, and Shores Mayor Brian Foley said he looks forward to seeing the town's shoreline replenished soon.
Regarding the easements, he said Town Manager Jim Harpring has been coordinating closely with county staff.  "We'll do whatever we can to encourage residents not to shoot themselves in the foot. We've got a problem and the problem is not isolated to 500 feet of beach here or 500 feet of beach there," Foley said.
"We are encouraged by the recent increase in available funding for a Sector 4 dune project from both the State's fiscal year 2023-24 budget and additional County funding opportunities," Harpring added. "Given the County's previous approval of engineering and permitting for a Sector 4 dune project, we are hopeful that this project will begin at the earliest opportunity after turtle nesting season closes."