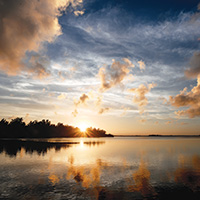 County looking to lure state funding for lagoon projects' wish list
STORY BY CASEY STAVENHAGEN (Week of July 13, 2023)

County staff hopes a draft lagoon management plan before County Commissioners this week outlining 79 projects – ranging from living shorelines and muck removal to weaning county residents off septic tanks – will give Indian River County an edge in competing for $3.2 million in state grant funding.
The water-quality projects in the 51-page plan that the county and its consultant Tetra Tech will pitch are candidates for inclusion in a $100 million environmental initiative announced by Gov. Ron DeSantis on June 15.
"The draft lagoon management plan brings together input received from multiple County Departments, a literature review, expert analyses, and guidance from regulatory agencies to have a cohesive plan reflecting the unique needs of the Indian River Lagoon within Indian River County," staff reported.
Fourteen of the lagoon projects in the plan are currently operational, six are under construction, four are shovel-ready and the rest are still conceptual. The four shovel-ready projects include two areas of seagrass restoration, the installation of an oyster reef and living shoreline at Lauren's Island – located just south of the Barber Bridge and west of Riverside Park – and the evaluation of future muck removal.
"Historically, the lagoon was dominated by a sandy bottom, but excessive organic matter, nutrients, and fine sediments from erosion has created deposits of muck in the tributaries and in areas of the lagoon," the staff said.
Muck now covers about 10 percent of the lagoon floor, wreaking havoc with nutrient levels.  "The reduction of sediment and water quality has resulted in massive and in many areas total loss of seagrass in the lagoon," staff reported.
Installing five new "living shorelines" would reduce erosion and nutrient absorption while diversifying the lagoon's ecosystems. Two of the conceptual living shorelines would be on the barrier island – one two miles south of the Sebastian Inlet at the northern end of the island, alongside the A1A pedestrian sidewalk, and the other at Round Island at the southern end of 32963.
"Studies have shown living shorelines outperform hardened shorelines in major storm events, in combating flooding and have a greater long-term survival compared to the life expectancy of a hardened structure," the plan reads.
Once the draft is approved, Tetra Tech will hold one-on-one meetings with the county commissioners in advance of two workshops in August, plus six to eight meetings with stakeholder groups, that will give the public a chance to learn about and comment on the plan.
The state doesn't require applicants to develop a lagoon management plan, but it's strongly preferred that counties propose projects that are part of a coordinated strategy with objective goals, to better allocate resources.
Though staff initially said it would take one year to produce a final document, commissioners wanted it sooner so it's expected to be ready for a vote on Sept. 26.