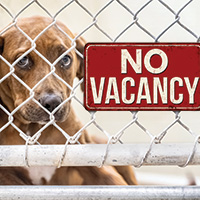 Crisis situation as shelter stops taking in animals
STORY BY SAMANTHA ROHLFING BAITA (Week of July 27, 2023)

For the first time in 70 years, the Humane Society of Vero Beach has stopped taking in animals.
The shelter, which has rescued and rehomed tens of thousands of stray and surrendered animals since 1953, announced it had temporarily closed its admissions department last week "in light of the critical lack of space to accommodate the unprecedented influx of owner surrendered and stray animals."
"HSVB is beyond capacity," said chief communications officer Tracey Kinsley. "We've had a 71 percent increase in owner surrenders and 25 percent increase in strays, year to date." But while the number of animals being brought in has soared, adoptions have not.
There is simply no more room to house any additional cats and dogs until local residents adopt those already in the shelter.
The overwhelming supply of unwanted and homeless pets, as compared to demand, is not just a local problem. Shelters across the country are experiencing similar overcrowding.
The crisis has come on the heels of the COVID-19 pandemic, during which millions of people, confined to their homes, began adopting pets for comfort and companionship – and are now finding their work and school schedules too busy to care for them.
That, coupled with housing challenges, families relocating or struggling financially due to high inflation – which has sent the cost of pet food through the roof – has forced too many to give up the pets they adopted.
"The decision to temporarily close the admissions department was by no means an easy one," said CEO Kate Meghji, and Kinsley said the HSVB found it disheartening that initial public reaction to the move has largely been negative and critical.
"But the overwhelming surge in intakes made it necessary to ensure the safety and well-being of the animals already in the shelter's care … and ensure that we can continue providing quality care and attention to every animal under our protection," Meghji said.
She stressed that despite the temporary closure, the Humane Society  "remains committed to finding forever homes for the animals currently in their care, and adoption services are still available."
Meanwhile, H.A.L.O., a no-kill shelter located on U.S. 1 in Sebastian, is also dealing with the pressures of limited space and an influx of animals.
CEO Jackie Petrone says H.A.L.O. always has a waiting list and works with other shelters and individuals who foster, in order to find space for the animals in need who find their way to the North County shelter.
"Intakes are much harder this year across the country," Petrone observed. "Surrenders are up, euthanasia is up, adoptions are down, the economy is down, the cost of pet food is up, it's more expensive to adopt.
"We're having a Clear the Shelter event in August,  but the momentum is down. We're always at capacity. It's a daily juggle. The animal world is not warm and fuzzy these days," Petrone said.
Amid this overpopulation at the Humane Society, Meghji recently announced that she will be leaving effective Aug. 8 after nearly five years at the helm to move out of state.
During her tenure, Meghji spearheaded several groundbreaking programs, including earning no-kill status, ensuring no healthy or treatable animals would be euthanized because of lack of space, resources or time.
She will take a position with the Humane Rescue Alliance in Washington, D.C. to "advocate for the welfare of animals on a broader scale."