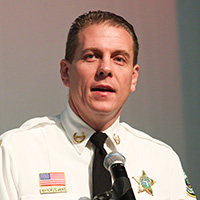 Flowers has raised far less than rival in race for sheriff
STORY BY RAY MCNULTY (Week of July 27, 2023)

Sheriff Eric Flowers raised $40,300 in the first month of his re-election campaign. He also took in more than $22,106 in in-kind contributions.
However, all but four of those in-kind contributions – they totaled more than $19,600 – came from Flowers himself.
According to Flowers' July 10 filing with the county's Supervisor of Elections Office, most of the "Candidate to Themselves" contributions were campaign items that appeared to be left over from his successful 2020 run for sheriff.
They included clothing, signage, bumper stickers, balloons, pens, cups, plasticware, business cards, envelopes, party supplies, pop-up tents, folding tables, coolers, cornhole boards, a generator and golf cart wrap with logo seats.
Signs and frames accounted for more than $9,500 of the in-kind contributions the 43-year-old sheriff made to his campaign.
Flowers did not respond to an email sent by Vero Beach 32963 asking him to explain the in-kind contributions and identify which of them were initially acquired for his 2020 campaign.
He spent $234,445 during that COVID-impacted race.
Even with the in-kind contributions he made to his 2024 campaign, the combined $62,406 Flowers raised last month was considerably less than the $128,500 collected by his top challenger.
Sheriff's Captain Milo Thornton, a familiar face in the community but a political newcomer, raised $127,500 in money – plus another $1,000 in in-kind contributions – in the first month of his campaign after filing to run in April.
He has since added $76,300 in May and $20,300 in June, bringing his monetary-contributions tally to nearly $224,000. Donations to a "Friends of Milo Thornton" political action committee give him a war chest of more than $300,000.
As of mid-July, Thornton's campaign had spent nearly $12,000 of that money.
Fellsmere Police Chief Keith Touchberry, who also is seeking the Republican nomination for sheriff in 2024, filed to run in November and has raised nearly $68,000. The 59-year-old runner-up to Flowers in the 2020 primary, he already has spent more than $18,000 on his campaign.
Deborah Cooney, a 60-year-old former bank executive, is running again as a no-party-affiliation candidate after suffering a landslide loss to Flowers in the 2020 general election.
As of a week ago, her campaign had raised $5,400, and she already had spent more than $4,000 of that amount.