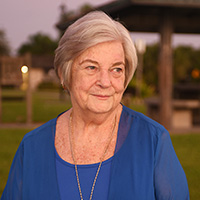 Honey Minuse seeking return to City Council
STORY BY RAY MCNULTY (Week of July 6, 2023)
Photo: Honey Minuse wants to return to the City Council.

Honey Minuse, who lost her re-election bid last year, wants to return to the City Council, where she believes her experience, perspective and passion are needed as Vero Beach prepares to shape its future.
"We're about to move ahead with several major projects that will have a tremendous impact on our community," Minuse said last week, referring to the Three Corners development, construction of a new wastewater-treatment plant and creation of a master plan for the revitalization of downtown Vero Beach.
"We need to make sure they're done right," she added, "and I have the institutional knowledge and passion for this city to see that they are."
Minuse, a longtime Vero Beach resident and fiscal conservative who served on the city's Planning & Zoning Board for 10 years and held a leadership role with the Indian River Neighborhood Association, was elected to the City Council in 2020.
She lost her seat in November, after she was targeted by a local grassroots group opposed to the city's plan to build a substantially larger boat-storage facility at the municipal marina. She finished fourth, 209 votes behind John Carroll, who was among three newcomers elected to the council.
Last month, Minuse filed to run again this fall, when two council seats will be on the ballot – one held by Mayor John Cotugno, the other held by Rey Neville. Cotugno is seeking re-election. As of press time Monday, Neville hadn't filed.
"So far, it's just John and me," she said. "We'll see if anyone else jumps in."
The qualifying period for November's city council election closes on Aug. 18.
Minuse said she supports the Three Corners development, relocation of the city's wastewater plant to the Vero Beach Regional Airport, adoption of a downtown master plan, continued efforts to improve the health of the environmentally troubled Indian River Lagoon, and recent creation of a municipal stormwater utility.
She said the council also needs to further address the affordable-housing crisis and safety issues related to the soon-to-arrive Brightline high-speed trains.
Minuse said she opposes the proposed Twin Pairs lane reduction along State Road 60 through the city's downtown and is concerned that such a drastic measure will prompt motorists to seek alternate routes through adjacent residential neighborhoods.
She believes any changes to the roadway's configuration should be part of the promised master plan for the area and, in the meantime, the less-intrusive traffic-calming measures approved by a previous council should be implemented.
In a prepared statement announcing her candidacy, Minuse wrote: "I bring to this campaign a broad background of community involvement, having worked with local, county, state and federal officials for over 30 years on matters impacting our city.
"This public service has given me significantly unique knowledge about the working structure and function of our city government and how it interacts with regional, state and federal agencies."
She closed by describing Vero Beach as a "wonderful city, steeped in historic values," then adding, "As we prepare for future generations to live here and have employment opportunities, it is imperative that we work together to formulate these plans."