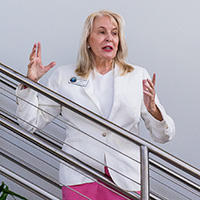 Moss' suit seeks compensation for 'traumatic brain injury'
STORY BY RAY MCNULTY (Week of July 13, 2023)

A year after she was hit by a slow-moving pickup truck on Cardinal Drive, County Commissioner Laura Moss – who said she suffered a "serious concussion" – is suing her own auto-insurance company in hopes of being reimbursed for her medical expenses and compensated for her injuries.
The lawsuit was initially filed by the former Vero Beach mayor in circuit court in Indian River County on June 6, but at the request of the attorney representing Farmers Casualty Insurance Company, which is headquartered in California, the case was moved to U.S. District Court in Fort Pierce.
Moss' attorney, Matthew Thomas of the Graves-Thomas-Rotunda Injury Law Group in Vero Beach, said last week no court date had been set.
"The person who caused the accident was not insured, but the auto policy purchased by Ms. Moss included uninsured motorist coverage," Thomas said. "She filed this lawsuit because she wants to be made whole again, financially, and compensated for her pain and suffering."
Thomas said Moss was covered by the policy, even though she was not driving at the time she was struck, because the injuries she sustained were the result of an automobile accident.
He said the coverage provided by her policy was "significant," adding that its limits were into "six figures."
Farmers hasn't denied Moss'  claim, Thomas said, nor has the insurance company questioned the extent of her coverage or her role in the accident.
"They're not prepared to respond until they talk to her," Thomas said. "It's like bartering. We'll go through the process, and they're going to evaluate her injuries and argue that they aren't worth as much as we believe they are."
In fact, Thomas said the case is more likely to end in a negotiated settlement than go to trial.
"It all depends on what's in the policy," he added. "Not all of these cases result in a lawsuit. The vast majority of them don't go to trial. We'll continue to negotiate with the insurance company.
"We'll try to settle, but we'll be ready for trial."
Farmers' attorney, Michael Merrill of the Cole, Scott & Kissane law firm in Orlando, did not respond to a phone message left Monday at his office.
As for Moss, she said last week that she is allowing Thomas and his law firm – where former City Council member Joe Graves is a partner – to handle the matter, adding, "I trust their judgment."
Moss said she doesn't like to think about the accident, which occurred at 8:30 a.m. on Aug. 15, 2022, as she was leaving Chelsea's Gourmet Café on Cardinal Drive.
According to Vero Beach police, Jeremy Tyler Sapp, then 20, was driving a 2003 Chevy pickup northbound on Cardinal Drive and preparing to turn left onto Azalea Lane when his vehicle struck Moss and knocked her to the ground.
The truck was traveling only 10 mph, but Moss' body slammed against the roadway, briefly rendering her unconscious and bleeding from the back of her head.
A Fire Rescue ambulance transported Moss to HCA Florida Lawnwood Hospital in Fort Pierce, where she said she spent three days in the trauma unit.
Police cited Sapp for careless driving.
On Aug. 19, after being released from the hospital, Moss submitted to her insurance company an "Application for Benefits" on which she described her injuries as "traumatic brain injury and soft tissue damage."
Moss said her physical recovery lasted months.
"Friends would ask, 'Where does it hurt?'  and I'd say, 'Everywhere,'" Moss said. "I didn't have any broken bones, but I suffered a pretty serious concussion and I was bleeding out the back of my head.
"I've also been experiencing more neck pain."
She's grateful, though, that the damage wasn't worse.
"I'm not being melodramatic when I say I could've been killed," Moss said. "Months after the accident, I spoke with one of the first responders who told me: 'If you had fallen one-quarter inch this way or a half-inch that way, we wouldn't be having this conversation.'
"I get a cold chill thinking about it."
She does think about Florida's uninsured motorist law, however, and she questions the wisdom of allowing people to drive without bodily injury coverage beyond the limits of a state-required Personal Injury Protection policy.
"I would tell everyone: Be careful out there," Moss said. "You don't know if a driver is an uninsured motorist until it's too late, and if you don't have really good coverage, you can get stuck with a lot of bills.
"I don't know how much it cost me, and I have good insurance."