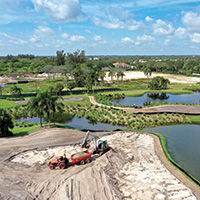 Orchid Island Golf & Beach Club getting $20M in upgrades
STORY BY STEVEN M. THOMAS (Week of July 13, 2023)

Vero Beach has a lot of great clubs with first-class facilities and distinguished memberships and they might be forgiven for resting a bit on their laurels – but they don't.
The Moorings, Quail Valley, John's Island, Riomar, Windsor, Grand Harbor and the Vero Beach Country Club all have undertaken multimillion-dollar upgrades in recent years – adding a "plus" to their 'A' grades.
Now Orchid Island – a small but stunningly beautiful residential golf and beach club – is joining the party in a big way, with a $10 million array of additions and improvements to club facilities.
Major golf course improvements, golf clubhouse renovation and expansion, and new pickleball courts, croquet lawn, basketball court, playground, and gazebo with a bar for outdoor socializing and small events all are on the schedule.
Another $10 million in additional upgrades is in the pipeline, but planning for the second phase is still in early stages and longtime club general manager Rob Tench did not want to discuss specifics.
"I think all good clubs have a similar mindset," said Tench. "We want to make sure we are serving both current and future members and always improving."
Orchid's Arnold Palmer-designed golf course is under renovation now, with new greens and tee boxes going in and some greens and bunkers being reshaped as part of a project that will keep the course closed until Nov. 1.
The improvements were designed and are being supervised by Arnold Palmer Designs, the company Palmer started in the 1970s while still a PGA star, which has continued on since his death in 2016.
"We wanted Arnold Palmer Designs to do the work to maintain the integrity of the original design," Tench told Vero Beach 32963 last week. "Brandon Johnson is our architect at the firm and he is doing a good job. He worked side-by-side with Arnold Palmer for many years, so he had a pretty good mentor!"
Preliminary blueprints for a major clubhouse renovation slated to begin next spring are currently being reviewed by the club's Board of Governors, who are working with Peacock + Lewis, Architecture, Master Planning & Interior Design.
Located in Palm Beach Gardens, the firm specializes in private club architecture and has an impressive portfolio of projects in Vero, including John's Island Beach Club and Quail Valley's Royal Palm Pointe expansion.
"We are going to expand our outside dining, adding a bar and fire pit and more covered areas out there," said Tench. "We're also going to renovate and expand the pro shop. It is a pretty significant project.
"Right now, part of the outside area is higher and the rest is low. In the renovation, we will bring everything up to the higher level to provide better views of the golf course," and perhaps catch more fresh ocean breezes.
"We have our next meeting with the architects on July 19," Tench added. "It takes a long time to get the plans finalized and secure all the permits and get materials ordered ahead of time so we can be ready to start, shovel in the ground, May 1."
The third part of the $10 million first phase will be brand new, consisting of six pickleball courts, a basketball court, a croquet lawn, a children's playground and a gazebo with a bar for socializing and small events.
This new recreational area will occupy about two acres of a handy 7-acre parcel the club purchased in December 2020 on the north side of route 510, just west of its intersection with the Jungle Trail. The area adjoins the club's busy 8-court tennis center.
Planning for phase one of the club improvements started more than a year ago and was guided by an intention to get extensive member input even as members were being asked to think beyond their own personal preferences to focus on the good of the whole club and its future.
"The board created a separate improvements committee because it didn't want the plan to be too board-driven," said Tench. "There were a couple of board members on the committee but also a wide range of other members – longtime members and newer members, men and women, people with varied interests. We wanted to get a broad range of perspectives, to make sure everybody was included in the thought process.
"Everyone on the committee has an expertise or passion for one area or another, whether golf or tennis or pickleball or dining or spa services, which helped us get a good perspective on each area and what the trends are," Tench continued.
"When we talked to members and asked them to give their opinions on whether they thought these were good projects, we reminded them that even if some feature of the plan wasn't something they were personally excited about, it was important to get up in a helicopter and take a wide view to see if it looks like it is good for the club as a whole and club's future, for current and future members. We were trying to get that type of thought process going, and I think we succeeded."
The appeal to collective well-being was well received in part because all the members in this West Indies-style, ocean-to-river community are heavily vested in the club's success.
They have substantial equity buy-ins to protect and they know the value of their homes will increase along with the quality of the club, as future buyers are lured to Orchid by its desirable island lifestyle.
"We have a little bit different mindset than some clubs because we are a residential club," said Tench. "You get a membership by purchasing a property and if you plan to sell your house down the road, you want to make sure that not only your home, but the club, are attractive to buyers. The club join fee is substantial, but it is small compared to the value of members' homes."
Even as golf clubhouse renovations get underway next May, planning likely will be near completion for phase two of the club improvements.
"The second part is still in development," Tench said. "As we get into next year, the board will look at those options and I think they will probably want to go forward with that second phase.
"It is a lot of fun for me! I really like blueprints and projects. It gives me something I can dig into in the summertime."
Orchid Island is a 1,150-acre community that is at once a town, a community governed by an HOA and a private club. There are 375 single-family homes and condos, including golf course, oceanfront and riverfront homes priced from about $2 million to $20 million.
The town was incorporated in 1965 by seven registered voters concerned about excessive development. In the late 1980s, the town's property was sold to a group headed by developer Robert Haines III of Avon, Connecticut, who broke ground on Orchid Island Golf & Beach Club in 1988.
Typical new-development ups and downs followed, with ownership of the property and project changing hands several times, but the club took root and became a prominent feature of island life in the early 21st century.
Like the rest of 32963, it flourished during the pandemic migration, gaining members and value. Homes that come on the market sell quickly, and with the upcoming improvements the club is likely to become even more desirable to buyers going forward.