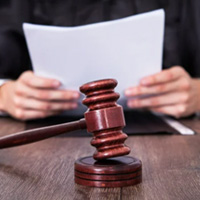 Pair of island criminal cases still unresolved
STORY BY LISA ZAHNER (Week of July 27, 2023)

Two vehicular homicides one year apart on Highway A1A – with two barrier island residents dead, two families grieving – are slowly making their way through criminal courts as two defendants navigate the State of Florida's felony justice system.
Jamie Jarvontae Williams, the Fort Pierce man responsible for the high-speed crash on A1A which killed pedestrian South Beach resident Michael Gianfranceso and his dog in May 2021, entered a plea of no contest to vehicular homicide and to violating his probation for felony firearm charges at the time of the crash.
Court documents state Williams wanted his sentences run concurrently, and Judge Robert Meadows honored that, sentencing Williams to 15 years in state prison, and five years for the violation of probation, to run concurrently, giving Williams credit for the 697 days he's spent in county jail.
But the case is not quite over, as Williams has petitioned the court to withdraw his plea, stating that he was led to believe that his plea would result in a "reduced sentence below the guideline," court papers say.
Williams filed a pro se motion from jail, and has been assigned an attorney from the Office of Regional Conflict Counsel for his hearing next month. 
Meanwhile, Orchid resident Elizabeth Jewkes Danielsen, arrested in January for the vehicular homicide of John's Island resident Christopher Ingraham and for driving under the influence causing serious personal injury to widow Frances Ingraham, is still awaiting trial for the May 2022 crash on A1A in Indian River Shores.
Jewkes Danielsen's defense attorney Andy Metcalf has begun taking depositions of Indian River Shores Public Safety officers who worked the case.
Jewkes Danielsen and her husband Paul are also being sued in civil court by the Ingraham family and by the personal representative of Christopher Ingraham's estate for damages.
Complaints in the two cases allege that Paul Danielsen, an attorney from California, had also been speeding north on Highway A1A at the time of the crash, racing home to Orchid with he and his wife in separate vehicles.
Police say the couple had been drinking at an Ocean Drive restaurant prior to getting on the road. Jewkes Danielsen's blood tested more than three times Florida's legal limit for intoxicated driving.