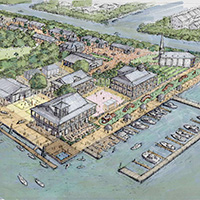 Retired engineer will 'quarterback' the planned Three Corners project
STORY BY RAY MCNULTY (Week of July 20, 2023)

Vero Beach City Manager Monte Falls has opted to retain – on a contract basis – a retired civil engineer who lives locally to manage the planned Three Corners development at the west end of the 17th Street Bridge.
Peter Polk, founder and director of the Texas-based Occam Consulting Group, will serve as the city's Three Corners project manager. He is expected to start on Aug. 1, and will be paid $8,000 per month.
"We looked for people to work in-house, and it didn't pan out," Falls said last week. "Peter came to us early in that process, but he has his own consulting firm, and he didn't want to be a full-time city employee.
"He was the best guy, so we decided to go the contract route," he added. "He's local. He knows this community. He's a good fit."
Polk, who has an extensive background in engineering and as a project manager, will answer to Falls and work closely with both him and Vero Beach Planning Director Jason Jeffries.
Initially, Polk will assist Falls and Jeffries as they finalize the requests for proposals (RFPs) the city will send out to potential Three Corners developers. He'll then assist in the selection process.
Once a developer has been chosen by the City Council and the site plan is approved, Polk will oversee all aspects of the project and serve as city's liaison to that developer.
"He's our quarterback, and his job is to handle day-to-day issues of the project," Falls said. "He has been involved in this kind of work for years, and he has a wealth of knowledge and experience."
Polk, 74, is a registered professional engineer in both Florida and Texas. His work history dates back to 1971, and he has founded or co-founded engineering and consulting firms in Virginia and Texas.
He could not be reached for comment.
The city wants to create a dining, retail, social and recreational hub on 33 acres on the mainland's waterfront – on the sites of the now-defunct municipal power plant and still-operating wastewater-treatment facility that is scheduled to be relocated to the Vero Beach Regional Airport.
City officials have optimistically predicted the new development could open as soon as the summer of 2028.
Falls said he interviewed 15 to 20 candidates for the project manager's position, and that his list of applicants included engineers, contractors, architects and management consultants.
"We had several people say they were interested in being full-time employees, but when we called them, they never called us back," Falls said. "I guess they didn't want the job."