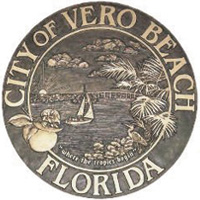 Vero Beach budget prioritizes city employee raises
STORY BY LISA ZAHNER (Week of July 20, 2023)

The Vero Beach City Council this week took up the first city budget without an influx of cash from the electric utility in possibly 100 years.
Since the sale of Vero Electric to Florida Power & Light in 2018, the city had been on a programmed "glide path" to wean itself off the more than $7 million in direct and administrative transfers Vero used to harvest from the municipal utility each year to balance the books.
Despite all the dire predictions from those who wondered how the city would get by without the cash from Vero Electric, the Vero Beach Police Department remains fully funded, and other city services remain intact. There's even money to help municipal employees cope with inflation.
"One of the top priorities for this proposed budget is a cost-of-living adjustment salary increase for all employees citywide," City Manager Monte Falls said in his budget message to the City Council.
The city's millage rate of $2.69 for every $1,000 in taxable value will remain flat, unless the Vero Beach City Council voted on Tuesday to increase it. Taxable real property assessments in the city are up 12.33 percent this year, bringing in $1.2 million in additional revenue without increasing the tax rate.
Water-sewer rate hikes imposed in January, plus another round of increases slated for Oct. 1, will bring in $1.9 million extra this coming year. Utility customers will contribute $400,000 more into Vero's general fund than last year – half of that in direct transfers, and the other half in administration charges allocated to the water-sewer utility.
Total transfers from the water-sewer utility into the general fund are budgeted at more than $2.9 million.
Vero's overall proposed budget for 2023-24 is $32.4 million, up 5.1 percent from the current year's budget of $30.8 million. City staffing remains fairly constant this year, with only two positions being added citywide for a total of 334 employees.
At its height, with the electric utility, the City of Vero Beach employed 508 people.