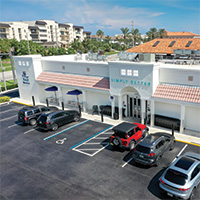 Village Beach Market's next frontier: Downtown Fort Pierce
STORY BY RAY MCNULTY (Week of July 6, 2023)

The Village Beach Market, which has been providing a variety of fresh, gourmet and prepared foods to 32963 residents for more than four decades, is about to finally open a store on the mainland – in downtown Fort Pierce.
Barring any further delays, the Vero-based market will launch its Fort Pierce venture under the same name as its A1A store later this month.  The exact date has not yet been determined.
The new 8,000-square-foot store will be located in the historic One Eleven Building – site of the failed Fort Pierce Trader's Market – on Orange Avenue, between 2nd Street and Indian River Drive.
"Downtown Fort Pierce has a great vibe," Village Beach Market owner Jason Keen said. "The workforce is already there, and there are a lot of activity and events, as well as some new developments on the horizon that will bring added value to the area.
"It's a destination, even for people in neighboring communities, including Vero Beach," he added. "The parking is a little tight, but there's a lot of pedestrian traffic."
Initially, Keen wasn't convinced downtown Fort Pierce was the best fit for a Village Beach Market. When first approached, he wasn't sure the area offered the right demographic for a small, independent grocery store.
The more he thought about it, however – the more he visited the downtown area – the more possibilities he saw, especially in food service.
"It really opened my eyes," Keen said.
The Fort Pierce location was also attractive, he said, because the previous market already had made a significant investment – such as in refrigeration equipment – in the building, which reduced his costs and made the turnaround time a lot quicker than anything available on Vero's mainland.
He said there was "nothing already existing" in the Vero Beach area, and he would have needed to endure delays of up to a year to get the equipment necessary to open another store here.
However, Keen said he was "keeping his options open" with regard to adding a store in Indian River County, including in the Sebastian area. "I haven't ruled out anything on the mainland or north county, but the location needs to make sense."
The new Fort Pierce store will be open from 7 a.m. to 7 p.m. Monday through Saturday, according to Keen, who said he expects food service to generate 60 percent of its business, with the other 40 percent coming from grocery sales.
The food-service area will have an expanded seating capacity to accommodate walk-up customers who come in for lunch or dinner.
The store will employ 30 to 35 workers to start, managed by Nick Hubbard, who grew up in Fort Pierce and joined the Village Beach Market team two years ago.
The operations of the Vero Beach store, which has 40 employees during the busy season, will not be impacted by the opening of the Fort Pierce store, Keen said.
"We've been making investments in management, and our staff is ready," Keen said. "There will be challenges, as there always are with growth, but we've made a big financial investment in this venture.
"The inflation we've seen the past year or so has increased the costs of equipment and labor, probably 25 to 30 percent," he added. "But we're a family, Christian-operated business, and we've put our faith in God."
Keen said he began studying the possibility of adding new Village Beach Market locations 2 ½ years ago, after the island store underwent a $3.5 million remodeling in 2021.
The purpose of the project, which closed the market for seven months and included the installation of new equipment, was to make the building and store operations more energy efficient.
In addition, the kitchen space was expanded to allow greater focus on prepared foods and fresh fruits.
Keen admits that it's difficult to compete with supermarket giants, such as Publix, but he said he's starting to notice a trend toward smaller, local, independent grocery stores.
He said he's optimistic about the future of the new Fort Pierce store, perhaps more than his father, Jerry, would've been.
"I asked myself that," Keen said. "I asked other family members, too. They said he definitely would've been excited about the possibilities, but also somewhat concerned about the risks – that he might've been hesitant.
"But he took risks, too," he added. "He had four stores here at one time."
Jerry Keen, who was 73 when he died in April 2019, had business roots in Vero Beach that reached back to 1951, when his father, Roy, opened what was then Keen's Cabins and Grocery, located on the southwest corner of the intersection of U.S. 1 and 12th Street.
Three years later, the elder Keen expanded the store, which was rebranded as Keen's Grocery. It became Keen's Supermarket in 1957.
Jerry Keen worked in his father's store as a high school and college student, and then took over the business when Roy Keen died in 1966. He went on to expand the family's grocery business to four stores in the 1970s and 1980s.
It was in 1980 that he opened what is now the Village Beach Market on State Road A1A on the northern end of Vero Beach. Through the years, fierce competition from Publix forced him to close the other Vero stores.