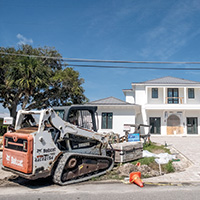 Builders' confidence healthy here heading into summer and beyond
STORY BY STEVEN M. THOMAS (Week of June 29, 2023)

It was big – and encouraging – news for the economy last week when U.S. homebuilder sentiment turned positive for the first time in a year, rising for the sixth straight month to 55 on a scale of 100, showing increased optimism about the new home industry going forward.
Here in Vero Beach, builder sentiment was even higher.
"My confidence number right now is a 75 or 80," said Bill Handler, president of GHO homes, the leading residential builder on the barrier island. "Things are going really well at the Strand."
The Strand is a large, luxury home subdivision in Indian River Shores. Handler added that buyers are already signing contracts before model homes are complete at Seaglass, another GHO subdivision on the island.
"We've had a steady stream of new business over the past six months, with very strong sales in both January and February this year," said Karen Kicinski, head of marketing at Lifestyle Homes, which is building houses at Bent Pine Preserve and other locations in Indian River County.
"Migration to Florida is continuing and we are seeing very healthy demand throughout the region, especially in Vero Beach," Brent Baker, Southeast Florida Division President for PulteGroup, told Vero Beach 32963 in May, when he announced another new residential development in Vero, where he already has two sprawling subdivisions underway.
The June 19 report from the National Association of Homebuilders showing improved builder confidence followed a burst of building activity in May.
"U.S. housing starts unexpectedly surged in May by the most since 2016 and applications to build increased, suggesting residential construction is on track to help fuel economic growth," according to Bloomberg.
Besides actual housing starts, two other main measures of housing activity are the number of building permits applied for and the number of permits issued – and Indian River County is seeing a surge in both.
Builders applied for 75 new home permits in May, up from 66 in April, according to Ryan Sweeney, a top official with the county's Community Development Department. Another 89 permit applications had been filed in June as of last Tuesday.
Keeping pace, the county issued 77 new home permits in May, which was up substantially from 45 permits issued in April and more than double the 36 permits approved in May 2022.
The surge in new home activity is being driven by a continuing shortage of resale homes, lower insurance costs for new homes compared to older houses, and "improving supply chain efficiency," according to the National Association of Homebuilders.
Inventory on the island and countywide remains far below normal levels. With fewer resale homes to pick from, buyers are turning to new homes to find their place in the sun.
At the same time, new homes are more attractive to many buyers because they are up to code and cheaper to insure than older homes.
"Everyone would love to have a new home," said Premier Estate Properties broker-associate, Kay Brown. "With older homes, buyers have to worry about the age of the roof and the windows and the condition of all the systems – plumbing, electrical, swimming pool."
That worry is twofold – most buyers do not want to have to deal with installing upgrades or making expensive, unexpected repairs after purchasing a home; at the same time there's a fear that a house might be uninsurable or that it will cost a fortune to insure.
Annual homeowners insurance rates have doubled and tripled for many older homes on the barrier island in the past several years and notices of non-renewal arrive daily in island mailboxes.
"In general, the newer the house, the cheaper the insurance," according to a recent report from Bankrate, a personal financial information website. "Home insurance like all insurance is based on financial risk," and insuring a home with a brand new roof, windows, plumbing, wiring and other systems, is seen as "less financially risky by insurance companies."
"Having everything new and up to code is a big plus for buyers," said Handler, who has a dozen subdivisions underway in the county. "It has to be a benefit to our business."
Builder confidence and increased availability of new homes is also being fueled by easier access to building materials, which were in short supply in 2021 and 2022.
"The good news is that – knock on wood – all the supply chain issues we were dealing with during and post-COVID have been resolved," said Kicinski. "Our biggest issues, supply chain wise, were trusses and windows, both of which are now on time. The labor market is also going well for us, and our trade suppliers are recruiting quality construction workers."
"The supply chain issues have cleared up," agreed Handler. "That issue has pretty much gone away. But costs have stayed high – nothing has come down in price."
"Building conditions are much better now," added Baker.
"A bottom is forming for single-family homebuilding as builder sentiment continues to rise from the beginning of the year," said National Association of Homebuilders chief economist Robert Dietz. "The Federal Reserve nearing the end of its tightening cycle is good news for future market conditions in terms of mortgage rates and the cost of financing for builder and developer loans."
"It is starting to feel like a much more normal market," said Handler.