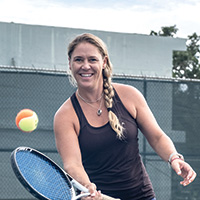 New Riverside Park tennis director 'eager to get started'
STORY BY RAY MCNULTY (Week of June 22, 2023)
Photo: The new tennis director at Vero Beach's Riverside Park Racquet Complex, Margot Carter.

The new tennis director at Vero Beach's Riverside Park Racquet Complex, hired by the United States Tennis Association's Florida Section last week, arrived at work Monday with an open mind and committed to a wait-and-see approach.
"There will be no immediate changes," Margot Carter said as she prepared to take over the operations and management of the 10-court facility. "After a period of time observing the current state of activities, some additions surely will be made, but that will be dependent on the needs and requests of the community."
Her ultimate goal, though, is to increase court usage – especially in the afternoons and evenings – and implement programs to entice more people in the Vero Beach area to play tennis.
And while she brings to the job an impressive tennis background, Carter said she'll welcome suggestions.
"I am very excited to apply my knowledge and experience to building programs on the courts at Riverside," said Carter, 38, who spent the past six months as a teaching pro at The Boulevard Tennis Club, where she ran clinics, taught private and group lessons, and worked with junior players.
"I am eager to get started," she added, "and I encourage the community to come out and share your input with us."
Having been ranked as high as No. 451 in doubles on the WTA Tour, Carter is certified by the Professional Tennis Registry as a "professional coach" and "coach developer." She also is a United States Professional Tennis Association "elite professional."
In fact, Carter has made presentations at multiple tennis workshops, including those sponsored by the USPTA, International Tennis Association and Women Tennis Coaches Association.
Nine years ago, she started her own company, Spherical Yellow, which is dedicated to teaching, coaching and growing tennis.
"We conducted an extensive search for a tennis director who understands what it takes to serve this community and grow tennis at Riverside," USTA Florida Executive Director Laura Bowen said. "Margot's exceptional tennis background, service mentality and business acumen made her the clear choice to grow programs and play in this community."
Carter began playing tennis at age 5 in Winchester, England. At age 18, she came to the U.S. to attend Tennessee Tech University on a full scholarship. She competed in the top three spots in the lineup and set a school record for victories in a season playing at No. 5.
After graduating with a bachelor's degree in environmental biology, Carter turned pro and competed internationally in doubles before returning to Tennessee Tech as an assistant coach. She used the opportunity to get a master's degree.
Carter continued to pursue a coaching career at the professional level, and again she traveled the world. During one stint in the Caribbean, she coached two girls who were awarded college scholarships to play tennis in the U.S.
She would try playing professionally one last time in 2014, when she climbed to No. 850 in the world doubles rankings before her comeback was derailed by a ruptured Achilles tendon.
One month into its takeover of the Riverside Park complex, USTA Florida has, as promised, resurfaced the four courts that weren't refurbished by the city. The Orlando-based state chapter of the governing body for tennis in American also has installed a new digital court-reservation system.
The complex currently has about 70 dues-paying members, and about half are city residents. Annual single-person memberships cost $250 for city residents and $300 for non-residents.