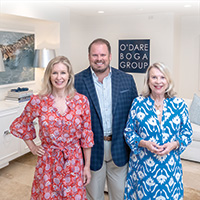 No sign of real estate slowdown here: 'The market is on fire'
STORY BY STEVEN M. THOMAS (Week of June 8, 2023)
Photo: Kristin Dobson, Richard Boga, and Cindy O'Dare.

The 32963 'season" is over, right? Ended shortly after Easter, right? Everyone's gone from the island, right? The real estate market is taking an off-season breather, right?
Not this year.
"The market is on fire," ONE Sotheby's broker associate Cindy O'Dare told Vero Beach 32963 on Monday. "We just sold another house a couple of minutes ago, which makes 25 sales since April 1.
"There is a line of buyers for every property, as long as it is priced right," she said, adding that April and May have been busier than the first three months of the year.
"I have definitely been working harder longer this spring," said Cathy Curley, one of the top agents at Dale Sorensen Real Estate. "Usually in April I'm coming up for air, but this April I put on three new listings and had a total of five listings go under contract in April and May."
"I think this longer selling season is due to several factors, including more people staying in Vero full time and the snowbird 'season' getting longer and longer," Curley added.
"There are more young families moving to Vero now than in the past and summer is a good time for them to move; plus it's hard to get a rental here in January, February and March, so some people are having to rent a place to 'try out' Vero in April, which means they shop for houses later and close later.
"By early summer I'm usually kicking back a little bit, starting to work on business development and spending more time with my family, but going into June this year I still have over $10 million in closings yet to come."
Richard Boga, O'Dare's partner in the O'Dare Boga Dobson Group which has closed more than $154 million in sales since moving to ONE Sotheby's a year ago, says the market is moving faster because buyers and sellers are finally getting on the same page regarding price.
"The year began with unrealistic price expectations by both sellers and buyers," Boga says. "As a result, season was a little underwhelming.
"We had sellers expecting to sell for more than 2022 prices and buyers expecting prices to be well below 2022 levels – and it was hard to put deals together.
"With the end of our traditional high season, though, sellers realized they had to move their pricing expectations more in line with the 2022 sales and buyers started coming around to the idea that prices here are not falling," says Boga. "There is no sense in waiting. There is no deal to be had six months from now.
"I think for the last year of so, a lot of people have put too much stock in scary headlines and reports and studies and pundits talking about trends in the national real estate market, and certain areas where prices have fallen, and that has given buyers the wrong idea.
"We are moving in a different direction than the national market might be. Demand continues to outpace supply and the market is very strong here, in Florida generally and Vero specifically."
Other island brokers see the same trends.
"What I saw was the sellers in January, a lot of them, came out a little more ambitious than what was real in the market," says Scott Reynolds, leader of the Reynolds Team at Compass. "In March and April, sellers made some adjustments. They didn't drop their price way down, but they did some reductions that created interest. That helped enable deals and May was a strong month, with more than 60 sales on the island."
"I have a great example regarding sellers and buyers coming together to get deals done this spring," Curley says. "The house at 503 River Drive was sold March 2022 for $5.85 million. Those owners re-listed it in February for $6.25 million," looking to net a $400,000 profit after 11 months in the home.
When the house didn't fly off the shelf, the sellers lowered the price to just under $6 million and Curley's buyer snapped it up, closing on May 31.
"It's a fabulous house, but the sellers had to be realistic about the fact that they bought it when the market was crazy," says Curley. "We are still in a very strong market, but more realistic than when they purchased."
Boga said that while days on market have shot up since the frenzied market in 2021 and early 2022, homes are still selling faster than in pre-pandemic years.
"The hottest segment of the market for us is $1 million to $5 million," O'Dare says. "And of course anything under a million usually sells fast because there are so few of those."
"In my opinion, Vero is still being discovered," Boga says. "I know we have said that for five years but more buyers keep coming from our traditional feeder markets – Miami, New York, New Jersey and others – and from places that were not traditionally feeder markets because they heard about Vero Beach from someone they know or read an article about it.
"There has been a huge explosion of California buyers, eight to 10 times as many as before the pandemic, and now we are seeing buyers from places like Montana and Idaho, as well!"
"I'm very bullish on Vero Beach real state," says Curley. "We have a great thing here and more and more people keep hearing about us. I have seen plates around town from Mississippi! Who ever heard of anyone from Mississippi moving to Vero?
"I am very much looking forward to having some downtime with my family this summer, while also getting to the bottom of my desk piles. But for now I shall keep at it and make hay while the sun shines on our glorious real estate market!"