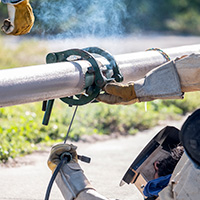 Progress slow but natural gas service will be on island soon
STORY BY LISA ZAHNER (Week of June 1, 2023)

Indian River Shores and Florida City Gas officials say they now hope a franchise agreement and necessary easements will be ready for the town's June council meeting, so construction work can begin soon after to connect John's Island and other residential neighborhoods – plus the Ocean Drive business district – to natural gas service.
Back in March, Shores Mayor Brian Foley gave the town staff two weeks to wind up the franchise agreement, but the contract was not presented to the town council for approval in April, or in May.
Florida City Gas officials say regulatory factors alone hampered their team's ability to complete the contract, but the company is "enthusiastic to provide an exceptional energy source to residents in Indian River Shores and the surrounding communities; and we're working hard to make that happen."
"There have been no delays in the negotiations with Indian River Shores. FCG had to wait until the Public Service Commission (PSC) officially approved our new rates, which went into effect on May 1," said Marc Seagrave, director of strategy and business development for NextEra Energy, the parent company of both Florida City Gas as well as Florida Power & Light (FPL). 
"There were some questions asked of Florida City Gas by the attorney representing Indian River Shores that we couldn't answer until we received official rate approvals from the PSC," said Seagrave.  "The negotiations have been very productive, business-like and in good spirt on both sides."
Shores Town Manager Jim Harpring said Holland and Knight's utilities law team in Tallahassee has been charged with getting a final draft of the agreement to the town council, though the groundwork was handled by him and Town Attorney Pete Sweeney. Harpring said the associated utility easements Florida City Gas needed to locate and bury equipment in the town took longer to work out than the franchise agreement itself.
The town's questions have been addressed, Seagrave said, "and the parties are making good progress. We are hopeful that the franchise will be ready for the June council meeting but if not, waiting until July is not considered a delay or a stumbling block by any means."
When asked if the breach of contract dispute with the City of Vero Beach has made the town gun-shy about executing another long-term utility franchise agreement, Foley said, "We have certain things that we need comfort from in a franchise agreement, but I wouldn't compare this to the City of Vero Beach.
"Florida City Gas has been a pretty honorable partner, and we've been doing our due diligence, but I don't have a level of distrust," Foley said. "I don't have any fear that they would sign an agreement and then walk away from it five years later like the City of Vero Beach did."
Florida City Gas already had franchise agreements on the books with Indian River County and the City of Vero Beach, so construction on the North Barrier Island and in the Ocean Drive business district is not contingent upon provisions in the Shores agreement.
Once the beachside expansion is complete, Florida City Gas says it will have infrastructure in place to serve residential and business customers from the Central Beach area up through the Shores all the way to Windsor, should that community's residents opt for natural gas service.