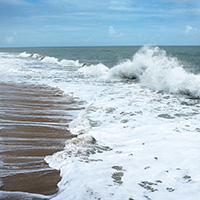 'Rapid response'on beach erosion puts county in better position to replenish
STORY BY CASEY STAVENHAGEN (Week of June 15, 2023)

Having learned from prior storm seasons, Indian River County has retained engineers to rapidly document any beach erosion so the county in the future can be first in line for emergency sand, and for grant funding to replenish the shore.
After two storms made landfall in Florida in 2022, affecting nearly every coastal county in the state, mined sand processed to beach-quality specifications became scarce, and so did the dump trucks needed to haul the sand to jobsites.
Hundreds of millions in Florida Department of Environmental Protection funding for storm-ravaged beaches was announced at a moment's notice by Gov. Ron DeSantis, but only projects that were surveyed, engineered and ready to go got the money. 
Mindful of this, the County Commission approved two future beach profile surveys, contracted with Morgan and Eklund, Inc., last Tuesday.
"Approving these efforts up front will save valuable time in reacting after an event, and will better position the County for a rapid response," reads a staff report.
The surveys, costing $120,000, can be conducted following "post-significant erosional event(s)," according to the report.
The conditions for the contract require that Morgan and Eklund, Inc. complete and deliver its survey within 100 days of a notice to proceed from the county. The contract is active for a two-year period.