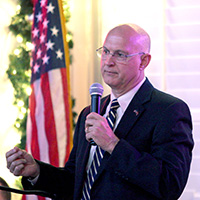 Sheriff race rival sees 'agenda' behind big contributors to Thornton campaign
STORY BY RAY MCNULTY (Week of June 29, 2023)
Photo: Fellsmere Police Chief Keith Touchberry

Sheriff's Captain Milo Thornton's early fundraising success in his campaign to replace his boss has impressed local elected officials, but one of his rivals in the 2024 race for sheriff has questioned the motives of some of the contributors who in two months have staked him to a $200,000 war chest.
Fellsmere Police Chief Keith Touchberry, the runner-up to now-Sheriff Eric Flowers in the 2020 Republican primary, said members of the community are telling him "something doesn't smell right" and that they find it "odd and suspicious" Thornton has been able to raise so much money so soon.
"They believe there's an agenda behind it – that people are contributing to his campaign to gain influence over the candidate," Touchberry said.
"I'm not crying about it, and I'm not trying to create controversy or turmoil," he added. "But no one has ever received that level of money that quickly, and people suspect there's a motive behind it that isn't good for Indian River County. And I agree.
"Someone needs to say it."
Thornton, who has established himself as the early frontrunner in the 2024 sheriff's race against Touchberry and Flowers, shrugged off the attack, saying, "I am not going to dignify his ridiculous remarks with a response."
According to the county Supervisor of Elections website Monday, Thornton's campaign had raised $203,575, plus another $1,000 in in-kind contributions.
Touchberry had raised $62,737. Flowers, who announced his re-election bid on June 1, isn't required to file his first campaign financial report until July 10.
Touchberry, though, said the local news media has been focusing too much on money and not enough about qualifications.
"Someone needs to change the conversation," the chief said. "You guys keep writing about the money. This race should be about character, honesty, integrity, competency, experience, accomplishments and vision.
"That's what the voters should be looking at – not how much money someone raised," he added. "From what I'm hearing, people are tired of that. They want a leader. They don't want someone who has been politically groomed."
That was an obvious shot at Flowers, who was effectively hand-picked by Deryl Loar, who served three terms as sheriff before retiring and successfully running for a County Commission seat. 
While Flowers with Loar's backing was an easy winner in 2020, a variety of missteps during the past two years have opened the door to the serious challenge he faces in seeking re-election.
"I had no intention of running in 2024," Touchberry said. "All Eric had to do was an average job, and he could've been there forever. But he made some questionable choices, betrayed our trust, and my phone started ringing.
"People kept asking me to run again," he added. "That's why I'm in this race."
Touchberry said running for office isn't easy, especially for someone who's not a politician, but he believes the Sheriff's Office needs new leadership. Linking Thornton to Flowers'  flawed administration, the chief said change must come from the outside.
"I'm not a politician, and I won't be a politician," he declared. "I'm a leader, and I'm a cop. But the people of this county have lost trust in the Sheriff's Office, and I can restore their trust."