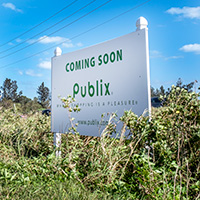 Sign or no sign, new Publix store convenient for islanders still on track
STORY BY RAY MCNULTY (Week of June 1, 2023)

The sign might be gone, but Publix's plans to build a supermarket closer to shoppers on the northern half of the barrier island aren't going away.
A regional spokesperson for the Florida-based supermarket chain last week confirmed the company's plan to build a Publix-anchored shopping plaza on the south side of State Road 510, less than a half-mile east of U.S. 1.
"We do still have a store planned for this location," Lindsey Willis, a Publix media relations manager for the South Florida region, wrote in an email.
She did not, however, offer any details about the project, including how Publix plans to address the traffic congestion in that area – especially with DiVosta Homes building a new residential subdivision at the already-busy intersection.
Ryan Sweeney, the county's chief of current development, said he was unaware the sign was down last week, and he knew of no changes to Publix's plan to begin construction of the shopping plaza later this year or early next year.
He said Publix representatives believe the planned 34,000-square-foot store will become the grocery-shopping destination for island residents as far south as Indian River Shores.
Currently, the nearest Publix supermarkets to island shoppers coming across the Wabasso Causeway are at the intersections of U.S. 1 and Barber Street in Sebastian, and U.S. 1 and 53rd Street, near Grand Harbor, north of Vero Beach.
In an interview in February, after the Publix sign was posted on the property, Sweeney said: "Based on what we've been told, this store will feature many of the upscale offerings you find at the Miracle Mile location, which serves a lot of island residents further south."
In fact, Sweeney said Publix representatives opted for the site – less than two miles west of Wabasso Beach Park – because "they couldn't build on the island."
Sweeney was referring to Publix's decision four years ago to abandon its plans to build a slightly smaller shopping center on a seven-acre parcel on 510 in Orchid, where the proposed development met with overwhelming opposition from town residents and their neighbors.
Under the plan Publix submitted to the county's Planning and Zoning Commission last year, the new mainland supermarket will anchor the Bridge Marketplace shopping plaza that also will include a 6,400-square-foot retail store, 2,100-square-foot liquor store and bank with drive-thru lanes.
Sweeney called it the "prototypical Publix shopping center."