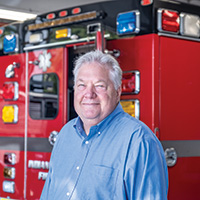 Tad Stone, steeped in experience, new Shores public safety chief
STORY BY LISA ZAHNER (Week of June 1, 2023)

When Indian River Shores Public Safety Chief Rich Rosell retired sooner than expected last month, Town Manager Jim Harpring looked to someone he'd personally been through hurricanes and a pandemic with – Tad Stone – to fill the position.
Now Indian River Shores Acting Public Safety Director, Stone had been hired on as Indian River County's Assistant Fire Chief in August 2017 and a year later had been appointed the county's emergency services director. Prior to that, he'd led the Seminole County and Osceola County public safety and emergency management departments.
As Indian River County Emergency Management Director, Stone supervised about 10 times the personnel he now manages for Indian River Shores.Harpring at the time was undersheriff, and he and Stone worked in tandem to manage natural disasters, plus all the unprecedented challenges COVID-19 brought to their jobs in 2020.
Stone, in his first months as assistant fire chief, is also credited with finding and reporting evidence of a major theft of county property, which led to the arrest of former fire chief Brian Burkeen. Burkeen is now serving 12 years in state prison for stealing nearly $300,000 in tires paid for by Indian River County taxpayers. The thefts had gone unnoticed by the department's previous leadership for five years.
"We are very fortunate to have him on board," Harpring said of Stone.
Both at press conferences and by phone and email, Stone provided the public and the media with straightforward, timely, local information during the pandemic when other agencies either declined to provide details, or later on in the pandemic, were instructed to direct media questions to the state Department of Health office in Tallahassee. 
Stone's paramedics and EMTs took the role of first responder to a new level, jumping in to help local nursing home residents get tested for COVID-19 and also assisting with mass vaccination efforts and the distribution of much-needed protective equipment to long-term care facilities. Numerous firefighters also worked with the health department doing contact tracing of people who had tested positive, before the volume of infected people made contract tracing virtually impossible.
Meanwhile the Emergency Service District's own frontline staff was hit with the virus like everybody else, but they stepped up, worked overtime and got the job done.
Stone retired from the county in July 2022 after more than four years as emergency services director.
"I was surprised when I got the call from the Shores Town Manager asking if I was available to give the town a hand in their Public Safety Department. I had most of the home improvement projects finished and I was available," Stone said. "After some discussions with my wife Dori we agreed that it would be a good fit for me and I believe a good fit for the town. It is a pleasure to work with Jim again and I am very happy to be here."
Stone said he's still getting to know everyone in the department to determine what's working smoothly and what aspects of the operation may need improvement.
Public safety operations and capital expenditures make up about 70 percent of the town's $9.2 million budget for the current year, so level of service expectations are high.
"I have only been here for a couple of weeks and I'm still getting adjusted and learning the organization. Any time there is a change in top leadership you can expect change and I want to be sure that those changes are for the good of the organization, the town and our residents, and our most important assets, the employees," Stone said.
"We will be taking some small steps initially and then start moving forward at a quicker pace."
So far, Stone said he's been impressed by what he's seen.
"I find a great group of professionals to work with. All are dedicated and want to provide quality services to the residents and visitors to the town," he said.
Indian River Shores supports a triple-trained public safety staff. That means full-time officers are certified not only in law enforcement, but also as firefighters and paramedics. Staying up-to-date in all three fields as individuals and as an accredited department, Stone said, is not a small task.
"Training is the most important aspect of any public safety organization. I have identified a couple of areas that I want to address very soon. Pre-fire planning, aggressive advanced EMS training, and the ongoing law enforcement training that will keep everyone safe," Stone said.
 "I want to focus on our core responsibilities in all areas and ensure we are providing the highest levels of service. Our core mission and responsibilities will be the focus for the near future."
Before departing, Rosell laid the groundwork for a new motorcycle patrol, the Shores' first ever.  Stone said that program is moving forward, but had no official roll-out date when residents might see a motorcycle officer in town.
"We have the motorcycle and we are receiving the necessary equipment that needs to be mounted. One of the issues we are experiencing is finding the training program in the state for the 80 hours of training a motor officer," Stone said. "The one that was to take place in Fort Pierce next month has been canceled because of an instructor issue. We will continue to search for the appropriate training program and get our designated officers enrolled."
In preparation for the height of hurricane season, the town has been hardening public safety facilities in case the coming summers bring major storms. A new ambulance to update the medical response fleet was ordered last year, and it's still backordered due to supply-chain issues.
"The problem nationwide is not the box but the chassis and this has been an ongoing issue for the past couple of years. There is a nationwide shortage of truck chassis, but we are in line with the manufacturer of the boxes for production," Stone said. Harpring said he doesn't expect delivery of the ambulance until 2024.
Harpring said upon the departure of Rosell, an Indian River Shores resident who had served decades in public safety and military leadership and who recently earned a doctorate degree in his 60s, "The Town Council is grateful for Dr. Rosell's service to the town over the past eight years and Town Council along with town staff wish Dr. Rosell all the best in his future endeavors."
Stone is working without a contract, as Rosell did, under the direct supervision of Harpring. Stone and Harpring agreed upon a $150,000 annual salary for the time Stone serves as acting chief.
Deputy Chief Mark Shaw remains second in command under Stone. Shaw, a paramedic since 1990 and a triple-trained officer since 2000, joined the Indian River Shores Public Safety Department in 2004. Shaw holds a master's degree in criminal justice from the University of Oklahoma and is a graduate of the FBI Academy and the Southern Police Institute.