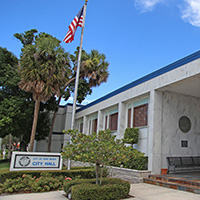 Two huge projects await Vero's newly hired finance director
STORY BY RAY MCNULTY (Week of June 29, 2023)

After six years of retirement – and with his wife at home in Port St. Lucie, where she takes care of their 2½-year-old grandson – Steve Dionne decided to go back to work.
Last week, at age 63, he started his new job as Vero Beach's finance director.
"I put in my 30 years with the state and retired early, but I got tired of sitting on my porch and reading books, so when this opportunity came up, I applied for it," Dionne said Monday.
"This is a great place to work," he added. "I've met some very nice and very talented people, and there's a standard of success to live up to here," he added. "Year after year, this office gets recognized with certifications from respected financial organizations.
"But I'm well-rested, excited to be back at work and looking forward to contributing to the city's mission."
Dionne has spent most of his career working for state agencies that include the Department of Corrections, Department of Health and Rehabilitative Services, and Department of Children and Families.
From 2004 to 2016, though, he worked for the Department of Health in Palm Beach and Volusia counties, and he comes to Vero Beach with more than 25 years of healthcare accounting and budgeting experience.
His work history includes an array of positions in financial management in the government sector: budget director, budget analyst, budget team supervisor, chief financial officer, accounting supervisor and management consultant.
He was the vice president and chief financial officer of New Horizons of the Treasure Coast – a comprehensive mental health and substance-use recovery agency with nine facilities across four counties – from 2001 to 2003.
He also has grant-writing experience.
"He doesn't have municipal experience, but he has plenty of government experience, which is something we were looking for," Vero Beach City Manager Monte Falls said. "He has an impressive resume, and we're happy to have him on board.
"He's coming in at a busy time," he added, "and we welcome his leadership as we put together our budget."
Falls said he interviewed 10 candidates for the position, and he relied heavily on input from City Comptroller Kelley Brost in making his decision.
Dionne succeeds Cindy Lawson, who retired in April after 12 years on the job. He will work with Falls, a yet-to-be-hired project manager and various consultant and contractors to accomplish two of the biggest projects the city has ever undertaken – the Three Corners development and construction of a state-of-the-art wastewater facility at the Vero Beach Regional Airport.
Those two projects could amount to the expenditure of more than $200 million.