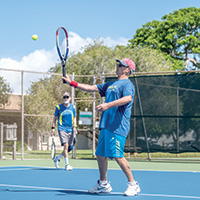 USTA Florida takes over Riverside Park tennis complex
STORY BY RAY MCNULTY (Week of June 8, 2023)
Photo: Bill Morris and Bob Fernand play tennis.

Less than two weeks into its three-year takeover of the 10-court tennis complex at Vero Beach's Riverside Park, USTA Florida has, as promised, begun resurfacing the four courts that weren't refurbished by the city.
The Orlando-based state chapter of governing body for tennis in America also has installed a new digital court-reservation system that can be accessed online at www.RiversideRacquetComplex.com.
And a tennis director has been hired – at least tentatively.
"The person has an extensive background in tennis and is currently in the employment verification process," USTA Florida Executive Director Laura Bowen wrote last weekend in an email responding to questions from Vero Beach 32963.
"Out of respect for their current employment, we are not making the candidate's information public until everything is completed," she added. "We should have an official announcement soon."
Once the new director is on the job, Bowen continued, additional programs and opportunities to play will be offered at the Riverside Park Racquet Complex, and USTA Florida is "planning a bigger community event in August."
According to Bowen, the court-resurfacing project actually began on May 23, but frequent rains in the Vero Beach area have caused delays. She expected the work to be completed this week.
USTA Florida also is working with city officials to repair the fencing that was blown over by gusting winds during a severe thunderstorm last month, she stated.
Vero Beach Recreation Director Jim O'Connell said the city is responsible for repairing the fences, adding that he already had received quotes from three contractors and was waiting for a fourth.
"We're going to get it fixed as soon as possible, and hopefully in the next couple of weeks," O'Connell said. "It was one of those pop-up storms that hit at a horrible time, right before the handover to the USTA. We realize how horrible it looks, and we're on it."
O'Connell said the city is pleased with the USTA's early efforts, which also include a fresh, more-welcoming look to the complex's pro shop, now manned by the organization's staffers.
"We have several new team members working in the shop," Bowen said. "They are wonderful residents, and they're very excited to serve the community."
Bowen said new USTA Florida signage will be posted on the grounds, and new equipment and "loaner rackets" are available at the pro shop.
As far as activity, however, not much has changed at the complex, where local tennis players continue to participate in round-robin competition – they start at 9:30 a.m. Monday through Friday, with an earlier session available at 8 a.m. Tuesdays and Thursdays – and other group activities.
Private lessons will be offered, along with youth programs and a summer camp for kids that is scheduled to begin on June 19.
"I haven't noticed any real difference yet, besides the court resurfacing, but they're just getting started," said Angelo Ragonese, 81, after participating in a round-robin last week. "They haven't implemented any changes yet."
Longtime Vero Beach resident Frank Esposito said the players are curious to see the USTA's impact on the facility. Some of those players, though, are seasonal residents who've left for the summer.
"We don't know what's going to happen," he said last week as he left the tennis courts. "I'm sure things will change, at least a little, but they said they're going to keep the morning round-robin groups going.
"You have to give the USTA a chance," he added. "I didn't expect anything to change overnight. But it would be nice to see more activity out here in the afternoon, when the courts are usually empty, especially in the summer.
"It would be great if they can get the kids to come out in the afternoon."
The complex currently has about 70 dues-paying members, and about half are city residents. Annual single-person memberships cost $250 for city residents and $300 for non-residents.
Bowen expects the membership numbers to grow as USTA Florida adds programs. Also, the Mardy Fish Children's Foundation plans to conduct youth programs there.
"So far, so good," O'Connell said. "It's only been a week or so, but we're happy with the way things are going.