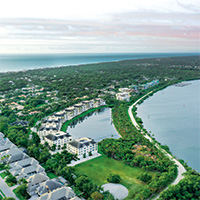 Vero's strong real estate market draws national attention
STORY BY STEVEN M. THOMAS (Week of June 1, 2023)

Vero Beach is bucking the national home-price trend in an amazing way, with values still headed up from the highs reached during the pandemic boom.
A major article in the Washington Post last week explored the continuing strength of home prices in Florida, even as prices falter in other parts of the country, where they have dipped as much as 15 percent in some previously hot markets.
The article noted that real estate prices were up, not just year over year, but month over month this spring in 11 Florida markets, with Indian River County leading the way. 
"According to data from Moody's Analytics, Sebastian and Vero Beach ... saw some of the biggest gains, with prices up nearly 6 percent between February and March, and 9 percent from last year," the Post reported.
Island real estate brokers confirm the trend. "Prices are still strong," said Buzz MacWilliam, president of AMAC Alex MacWilliam, Inc. "We aren't really seeing any declines."
"Prices are still going up," said Berkshire Hathaway agent Chip Landers. "They aren't going up nearly as fast, more like 3.5 percent or 5 percent a year instead of 20 or 30 percent, but they definitely aren't going down."
"Countywide, home prices were up 11.4 percent in the first four months of 2023 compared to the first four months of 2022, Jan. 1 to April 30," said Scott Reynolds, leader of the Reynolds Team at Compass. "I like that number. I think that is a really positive sign for our market, to see an 11 percent increase in average closed price."
The good news comes with caveats. Price increases are not uniform across types of real estate or parts of the county.
For instance, the median sales price of condos on the barrier island jumped 26 percent in April compared to April 2022, from $545,000 to $687,500, but single-family home prices in 32963 were down, according to data provided by ONE Sotheby's International Realty.
Generally, prices rose more in percentage terms on the mainland than on the island, with the average closed sales price up 47 percent in parts of north county around Sebastian during the first four months of 2023, according to a Market Snapshot from TrendGraphix provided by Reynolds.
But there are plenty of hot spots on the island, too.
"Riverfront is still in big demand and Central Beach continues to appreciate," said Buzz MacWilliam.
Indeed, according to the TrendGraphix report, Central Beach closed sales prices were up 25.2 percent, based on 72 sales, during the first four months of this year, a whopping increase.
"We recently sold one west of A1A in Central Beach for $2.3 million," said Reynolds. "It went immediately, even though that price was a new high-water mark for the neighborhood.
"We hit another nice new high in River Club where we just closed a home at $3.1 million, which was a record price for that area for a house not on the water," Reynolds added. "The seller bought it two years ago for just over $2 million. We are seeing good stuff for the market overall."
But brokers and agents all emphasize that buyers will turn up their noses at "aspirational prices."
"We still have the danger of overpricing in this market," Buzz MacWilliam said. "It is like the American way, buy low and sell high, and some sellers who may not be strongly motivated want to test the market and push the window on price.
"Those properties will not sell until the price comes down to where the market is really at. We spent the past three years looking at 25-percent to 30-percent price increases, year to year. Now buyers will tolerate maybe a 3-, 4- or 5-percent increase, and feel good about the transaction."
"In 2021, you could ask a crazy price for your house and someone would probably come along and pay it," said Richard Boga, partner with the O'Dare Boga Dobson Group at ONE Sotheby's. "Even last year, you could put an aspirational price on it and you might get lucky and sell it. Not now. Buyers will not look at the house if it is overpriced."
The market has zeroed in on a much narrower band of value than existed two years ago and even a top-quality house in great condition in a prime location needs to be within those limits to sell, or at least to sell quickly, multiple brokers said.
Because of that dynamic, there are numerous price reductions each week, on the island and across the county. Price reductions usually are a sign of a declining market, but in this case, they indicate over-enthusiastic sellers coming back down to earth, dialing back their asking price to what the market is looking for – which is still higher than a month ago or a year ago, but not crazy higher.
"But when homes are priced right, we are still getting multiple offers," added Alex MacWilliam IV, an agent and manager with the company. "We're not seeing the drastic nine or 10 offers the way we did in the boom, but we see two or three for good houses."
With new demand crossing the state line each day and supply still at historic lows, housing prices don't have much choice but to creep up.
"Prices in Florida are still going up, which is really shocking because home prices in many parts of the country, particularly out west and along the coasts, are coming down," Ken H. Johnson, a real estate economist at Florida Atlantic University in Boca Raton said.
"Not only are we short of housing units, but we're seeing extraordinary population growth. Put those two things together," and you get rising house and condo prices."
"The pandemic spurred nearly 1 million people to move to Florida from 2020 to 2022, transforming the state's economy and juicing its already hot housing market," the Washington Post reported.