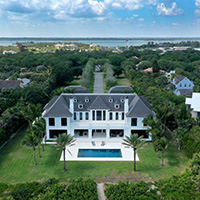 Another $40 million island listing to attract world's wealthiest
STORY BY STEVEN M. THOMAS (Week of March 16, 2023)

There has been a revolution in 32963 listing prices this season. In five short weeks, between the end of January and beginning of March, four homes came on the market that have a combined asking price just shy of $190 million.
Between them, the houses have 34 bedrooms, 44 baths, 36 garage spaces, six swimming pools, 850 feet of ocean frontage and more than 70,000 square feet under roof.
They include a $60-million spec home being built by a star team out of Miami; another grand $60-million house in the estate section that comes with 5 acres of land; a $29-million home in Sandpointe with more than 300 feet of ocean frontage; and now, just listed by Sally Daley at Douglas Elliman, a $40-million estate across from St. Ed's that includes two 2,000-square-foot guest houses, along with a 13,050 main house and 155 feet of ocean frontage.
This flurry of mega-listings has pushed Vero Beach quite suddenly into the highest echelon of the global real estate market, catching the eye of UHNWIs (ultra-high net worth individuals) across the country and around the world who are looking for trophy properties to park their wealth or enjoy a seaside lifestyle.
Many of those elite buyers had not looked at Vero before, but they and their representatives are paying attention now as 32963 trophy properties keep popping up on their radar.
Daley said her phone started ringing as soon as she listed the $40-million home at 1925 Sears Cove, sending the offering out through the Douglas Elliman and Knight Frank networks.
"I have heard from people in England, Germany, South America – and right here in Vero," Daley said. "We are talking to several family offices. It is such a rare opportunity."
The home's virtues include the two large guest houses, the width of the ocean frontage on a wide beach, and the newness of the house – which was completed in 2018 and is up to all the latest codes. Other pluses are the location across from St. Edward's School and just 4 miles south of Sexton Plaza, and the huge 4.85-acre parcel, which caters to wealthy buyers' post-COVID desire for privacy and space – and has an interesting story behind it.
According to Daley, the land once was plated and approved for a subdivision called Sears Cove that would have had "eight or nine homes," but the houses were never built and the land lay fallow for decades after that stretch of oceanfront land was built out with other small subdivisions.
"It was a unicorn," Daley said. "Because it was right by St. Ed's, squeezed in between other subdivisions, people noticed it and asked, 'How can it be that this hasn't been developed?'"
The earliest deed for the property shown on the Indian River County Property Appraisers website is dated Sept. 14, 1979. The subdivision had already been plated by that time, apparently named after the seller.
The deed states that "Sherman N. Smith, Jr., as personal representative of the estate of Ruth K. Sears, deceased," was selling the property to Josephine Sturgis, member of a prominent Vero family.
Jack and Josephine Sturgis moved to Vero Beach in 1955 and started Sturgis Lumber & Plywood Company, which still operates at 4645 U.S. 1. According to the company website, the couple devoted themselves to the community while also running their business and raising a family. Josephine Sturgis taught second grade for 29 years and Jack Sturgis served as mayor of Vero Beach from 1961 to 1965.
Fourteen years after Jack Sturgis flipped off the light in the mayor's office for the last time, Josephine purchased the Sears Cove site – and held onto it for 40 years, leaving it more or less untouched while subdivisions sprang up all around it.
Daley got involved with the wooded parcel in 2015, when a client called and told her they were looking for land to build a new oceanfront home but felt like "there was nothing out there."
Daley, who lives on the south island and whose daughter went to St. Edward's, knew about the Sears Cove site, which wasn't listed for sale.
"When I asked colleagues about the property, they were discouraging," Daley said. "They told me the land had been in one family for a long time and that a number of people had approached them over the years about a purchase without success.
"I started poking around and got in touch with the Sturgises and we had a good conversation over a period of time and, long story short, I brokered the deal for the land."
Daley declined to name her clients but public records identify them as Denis and Jennifer Manelski. At the time of the sale, the couple owned an oceanfront home in Riomar but wanted a wider lot with more privacy. They paid $6 million for the Sears Cove property.
Denis Manelski is head of global fixed income, currencies and commodities sales at Bank of America, according to Bloomberg and Bank of America Corp.
"We signed a purchase contract in late 2015 and closed in August 2016, after the buyers completed their due diligence, to make sure they could build what they wanted to on the property," Daley said.
The three-building compound was designed by Tequesta, Florida-based Village Architects and completed in 2018. The 13,050-square-foot main house, which is Transitional Georgian-revival in style, has the fine materials and features you would expect in an estate of its magnitude, along with unexpected pleasures such as the matching glass staircases that connect the first and second levels.
Between the main house and the two guest houses, there are nine ensuite bedrooms, 10 full baths, four half-baths, two wine cellars, three fireplaces, six air-conditioned garage bays and a 40-foot by 20-foot swimming pool overlooking the ocean.
The handsome, highly symmetrical compound is set back from the flood zone, just beyond the coastal control line. "They kept the Sears Cove name instead of having an A1A address and preserved as many mature trees as they could out of respect for what was there before them," said Daley.
The long driveway leading from A1A has a roundabout halfway to the house where it circles a stand of live oaks the family saved.
After four years in the home, with their children now grown, the sellers decided to make a move and listed the house with Daley for $40 million.
Besides the home's inherent quality and exceptional site, which are likely to give it wide appeal, Daley is banking on an X-factor to bring a buyer.
"There is very little to choose from if someone is looking for a home of this quality that is relatively new," she said.
"I did some research and there are only three other oceanfront houses on the east coast of Florida, between here and Key West, that sit on acreage and were built since 2016.
"There's one on Ocean Boulevard in Highland Beach for $32 million, that has 2 acres, 100 feet on the ocean and no guest house; a new-build in Stuart for $49 million, also on 2 acres with no guest house; and the $60-million spec house in the estate section here in Vero that won't be done for two years. And that is it. There might be other properties that are quietly available, but those are the only ones publicly for sale."
The highest price ever paid for a house in 32963 up till now was $27 million in 2021, but according to Barrons there are nearly 400,000 ultra-high net worth individuals – those worth $30 million or more – in the world these days.
If one or more of them is looking for a big, beautiful, relatively new home on a large piece of oceanfront property in Florida, as seems likely, they or their reps will certainly spy 1925 Sears Cove as they scroll property sites, even if they have never heard of Vero Beach. And the $40-million price tag won't shock them.
"We are almost at a point now where it is like real estate without borders," Daley said.