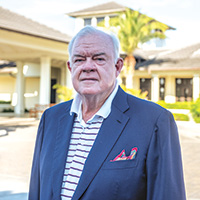 Brian Barefoot files to seek re-election to School Board
STORY BY RAY MCNULTY (Week of March 23, 2023)
Photo of Brian Barefoot.

Refusing to be bullied by Gov. Ron DeSantis and the Moms For Liberty, School Board member Brian Barefoot filed the necessary paperwork Monday to run for a second term.
"No one is going to tell me whether I can run or not – least of all the Moms For Liberty and not even the governor," Barefoot said as he left the county's Supervisor of Elections Office.
"I got into this three years ago with the goal of trying to help improve public school education in this county," the John's Island resident added. "We've made some progress, but there's still a lot of work to be done.
"I want to make sure we do it."
In February, the governor publicly released an enemies list that contained the names of 14 school board incumbents he wants to see defeated in next year's elections.
The list included Barefoot and Peggy Jones, the local board's current chair. Both responded by saying they would seek re-election, anyway.
Before DeSantis released his hit list, which was created with significant input from the Moms For Liberty, Barefoot had not committed to a re-election bid. When he ran in 2020, in fact, he said he planned to serve for only one term.
But the former Indian River Shores mayor – a lifelong Republican who had attended fundraisers and contributed to DeSantis' past campaigns – was so appalled by the governor's targeting that he felt compelled to meet the challenge.
He believes public education, particularly in Florida, is under attack.
"This has really backfired on him, locally," Barefoot said, referring to DeSantis.
"I don't know if he's getting bad advice from his aides, or if he's listening to the Moms For Liberty, but based on the feedback I'm getting here, he's making a mistake sticking his nose in our local elections."
Barefoot, who will turn 80 next month, said he's flattered by the offers of support, including commitments to fund his campaign, he has received since news of DeSantis' list began making headlines last month.
He said he has received pledges totaling nearly $100,000 – and that was before he filed.
Barefoot easily won election in 2020, when his entry into race convinced incumbent Tiffany Justice not to run. Months later, she co-founded the Moms For Liberty.