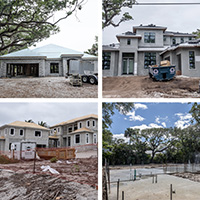 Central Beach: New homes rising under old oaks
STORY BY STEVEN M. THOMAS (Week of March 23, 2023)

If it seems to you that new houses are being built everywhere in Central Beach, you aren't wrong. Some streets – Dahlia, Azalea and Holly, for instance – have as many as three new homes in progress at the moment.
The county issued 20 permits in 2022 for total home demolitions between Live Oak Road in the north and Iris Lane in the south, and Vero Beach Planning and Development Director Jason Jeffries said the city has been approving "a steady 20 to 25 residential site plans per year" in the neighborhood, including a handful of houses going up on the few remaining empty lots.
Add to that a similar number of major, whole-house renovations that transform worn-out 1960s bungalows into like-new homes, and that adds up to a lot of pickup trucks parked beneath the live oaks on  Monday mornings.
Most new homes are being built by people who bought an outdated house with the intent to tear it down and build a beautiful new home on the lot in which to live. But there are spec houses, too, and transformative renovations by both residents and developers.
The phenomenon is being driven by three things – the age and size of most houses in Central Beach, many of which are small and date from the 1950s, 1960s and 1970s; an intensely desirable location; and a mind-boggling increase in property values in the sprawling suburban neighborhood north and south of Beachland Boulevard.
According to county property records, the average sales price of a single-family home in the section of Central Beach south of Beachland more than tripled between 2019 and 2022, from $578,000 to $1.785 million in 2022. The total volume of transactions in that section jumped from $8,681,000 to $39,275,000 – showing a massive increase in value.
It was only a couple of years ago that million-dollar sales first occurred in the neighborhood of mostly modest homes, causing island brokers to shake their heads in amazement. Today, $1 million is the bottom of the market.
Of the two dozen homes listed for sale in Central Beach on Monday, five were in the $900,000s, including three at $995,000. Everything else was $1 million or more, going up to nearly $4 million.
"Teardowns are becoming more commonplace," said Compass team leader Scott Reynolds, who with his wife Janice is building a home in Central Beach that is nearing completion.
"There isn't much to work with in some of the houses, and lot values have gone up so much that it doesn't make sense in many cases to keep a structure that is outdated and only worth a couple of hundred thousand dollars."
"The reality is that if you have a 1,500-square-foot, 3-bedroom, 2-bath house from the 1950s or 1960s, that is not what people coming here now are looking for," said Dale Sorensen Jr., managing broker of Dale Sorensen Real Estate.
"If you were able to capture an image of Central Beach now and come back in 15 years, it would look totally different," said Reynolds. "It will still have the live oaks and ambiance but it will be improved and refined.
"There is a lot more new money coming into town now and these new people have a different level of standards," Reynolds added. "For me it is refreshing.
"People always thought it would take getting a major airport within half an hour of town to transform values but the internet and technology that permit remote work turned out to be the game changer. People working remotely bring more money into town and the incomes of people moving into Central Beach are higher now than in the past."
Remote workers with higher salaries and net worths moving here during the pandemic bid prices up dramatically in Central Beach and the improvements they have undertaken will continue to push home prices higher in a virtuous cycle that has no end in sight, according to Reynolds, Sorensen and Richard Boga, a luxury agent at ONE Sotheby's International Realty.
"I see the desirability of the area ever increasing in the years ahead and that increase will continue to drive redevelopment," said Boga, who bought a house in Central Beach as an investment and possible future home during the pandemic when he saw which way the winds of change were blowing.
To some, buying in Central Beach after prices just tripled in three years might seem like buying bitcoin at $60,000, but that does not seem to be the case.
Central Beach is an idyllic environment in many ways, with low crime, low density and an extraordinary array of amenities in a compact area. Ocean beaches, river marinas and boat launches, a fine art museum and outstanding live theater, along with loads of shops, restaurants, resorts and a couple of country clubs all enhance the Central Beach lifestyle, giving it a strong basis of current and increasing value.
Add in the influx of remote workers, well-to-do early retirees and locals who have the money to buy into the seaside dream and the future looks bright for home values in the neighborhood.
"I do think we still have a lot of headroom for prices here," said Reynolds, "especially when you compare us to competing markets."
Island developer Yane Zana agrees: "Prices for homes on dry lots in Central Beach have hit $1,000 a square foot, which no one ever would have imagined a few years ago. But we are still pretty darn affordable compared to Naples or Palm Beach."
Naples and Palm Beach Island are the two markets Vero is most often compared to and home prices in their comparable sections are far higher for similar properties.
One example: On Monday, there was a 3-bedroom, 3.5-bath, 2,751 square-foot single-family home on a. 44-acre lot a block from the ocean in Central Beach listed for $1.7 million.
In Old Naples, in that price range, the most you could get was a 2-bed, 2-bath, 1,209-square foot apartment at 850 Central Ave. listed for $1.625 million.
On Palm Beach Island, the most price-comparable property listed on Monday was a 1-bed, 1-bath, 715-square-foot apartment at 401 Peruvian Ave, #3010, that could be yours for $1,545,000.
The median list price in Central Beach this week was $1.46 million while the median in Naples 34102, where that town's central beach is located, was $5.9 million – and homes aren't lingering on the market. According to Redfin they sell in an average of 56 days.
Meanwhile, the median list price on Palm Beach Island was $9.4 million, almost seven times the median in Central Beach.
So, people in the Northeast, California, Miami or abroad who want an upscale, seaside lifestyle in Florida can't help but do a double-take when they compare Vero with its rivals.
Especially because there is little danger of redevelopment getting out of hand here as it has in many ultra-desirable places that end up losing some of what made them special as people crowd in.
The City of Vero Beach has conservative code requirements in place that limit the height of buildings and the size of homes that can be built on different sized lots. The smaller the lot, the smaller the home permitted.
Jeffries told Vero Beach 32963 that houses can only occupy between 30 percent and 38 percent of a lot, which allows for larger homes on a larger lot but never a house that takes up every cubic inch of air space the way some houses do in areas like the Balboa Peninsula in Newport Beach, California, and other coastal cities.
Setbacks and front and side yard widths also are controlled by code, and Jeffries said the city is considering tightening some building regulations as it revises its comprehensive plan in order to protect the quality of neighborhoods like Central Beach.
"The city's goal is to preserve the low-density character of its neighborhoods and the preserve the live oak canopy," Jefferies said.
"Janice and I went to a real estate networking event in San Diego recently, and we went out to Del Coronado Island," Reynolds said. "To me, it is like a grown-up version of Central Beach. It's a mature area with many new homes and many very, very improved smaller houses that are architecturally interesting with a lot of character and charm without being a big Mediterranean box like you might see at the beach in Newport.
"I've always thought of Vero Beach as more creative and artistic than most places, and I think that will continue to be reflected in Central Beach."
"I don't see too many examples of overbuilding or McMansions in Central Beach," said Boga. "You can elevate and improve a neighborhood considerably and still preserve its character.
"Eventually, the least manicured homes in Central Beach will receive an offer to purchase that they can't refuse, and those homes will be re-developed into something better. Things in disrepair will be torn down and replaced.
"At the same time, many of the homes will be renovated in ways that vastly improve their livability and value while preserving the ambience," Boga added.
"There are a lot of attractive little mid-century modern houses and beachy cottages that people really like and they are coming in and paying $1 million for them and breathing new life into them [spending hundreds of thousands of dollars], taking them from tired to like-new. We can expect to see a lot more of that along with teardowns and rebuilds."
Reynolds' nearly complete home is an example of high-quality redevelopment without overbuilding.
He and his wife bought a worn-out 3,000-square-foot home on Camelia east of A1A in January 2022. After looking it over carefully, they tore the house down and are now replacing it with a beautiful new house.
"We have been wanting to be in Central Beach for a long time," said Reynolds, whose office is less than a mile from the site of his new home.
"People talk about the fact that you could've gotten a house in Central Beach for $250,000 in 2013," said Boga. "But we can't time travel, so the question now is what will houses be trading for in 2033, and  I think prices will be considerably higher."
Reynolds said that, even after the pandemic price boom that pushed values in Central Beach so high so quickly, he thinks prices will be double what they are now in 10 or 15 years.