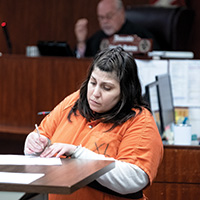 Chamber's 2019 'Volunteer of the Year' headed for prison
STORY BY RAY MCNULTY (Week of March 23, 2023)
Photo: Valarie Esposito in court on Monday, March 20th, 2023.

A former marketing specialist and Vero Beach socialite who was the Indian River County Chamber of Commerce's "2019 Volunteer of the Year" and participated in fundraisers for abused children is going to prison – for having a five-month sexual relationship with a 16-year-old boy.
Valerie Esposito, 40, accepted on Monday a plea deal that will keep her behind bars for at least the next 2 ½ years.
Circuit Judge Robert Meadows endorsed the agreement and sentenced Esposito to 70 months in state prison for "unlawful sexual activity with a minor" and 60 months for "lewd solicitation of a child by computer."
The two sentences will run concurrently, however, which means Esposito could be released from prison as early as the summer of 2026 – because the Florida Department of Corrections will give her credit for her time served at the County Jail, where she has spent most of the past three years.
Esposito, who was arrested in October 2019, was facing the possibility of spending decades in prison if convicted. But during plea negotiations, prosecutors agreed to drop two of the four original charges and settle for a reduced sentence.
"As with any such deal, we made it in the best interest of the state," Assistant State Attorney Patrick O'Brien said, adding that Esposito will be required to register as a sex offender when she gets out of prison.
Local attorney Edward Abare, who has represented Esposito since October, said he immediately began discussing a plea arrangement with O'Brien and that the two reached a tentative agreement before the end of the year.
"It was a fair resolution to a sad situation," Abare said. "There were no winners."
Wearing a jail-issued orange jump suit and handcuffs as she entered the courtroom, Esposito told Meadows she understood the terms of the plea deal and was accepting the agreed-upon sentence because it was in her "best interests" – not because she was guilty.
In fact, she pleaded no contest to the remaining two charges.
Esposito's plea ended a 3 ½-year legal saga that began in early October 2019, when the boy's father learned of his son's sexual involvement with the woman, then 37, and contacted Vero Beach police.
Questioned by detectives, the father said he became aware of the illegal activity after finding explicit videos and text messages "describing in graphic detail an ongoing sexual relationship," police records stated.
According to an arrest affidavit, the boy told detectives that Esposito began making sexual advances after his 16th birthday and their encounters continued through the summer.
Esposito was arrested eight days after those interviews.
Days later, the father, who had been romantically involved with Esposito, spoke with DailyMailTV and accused his ex-girlfriend of being a "predator."
Police charged Esposito with three counts of sexual battery on a person between the ages of 12 and 18, and one count of lewd solicitation of a child by computer. Her bail was set at $325,000, which was later reduced to $200,000.
Three months later, Circuit Judge Dan Vaughn agreed to lower her bond to $100,000 – but with strict living conditions upon her release from jail.
Those conditions required Esposito to reside at a designated address with an appointed person, be monitored by GPS and remain within the county limits. She also was prohibited from having contact with the victim, and with minors (except for her own children). By the terms of her pre-trial release, Esposito wasn't supposed to access the internet or consume alcohol or drugs.
After only 10 months of freedom, she was back behind bars.  In November 2020, after prosecutors notified the court that police reported Esposito had violated the conditions of her release by using a dating website to meet a man at the Vero Beach Hotel & Spa and drink beer at Earl's Hideaway Lounge in Sebastian, Vaughn revoked her bond.
She remained in jail until her court appearance Monday.  Prior to her October 2019 arrest, Esposito worked as a marketing specialist for an insurance agency and was a regular at social gatherings often participating in charitable events.
Just days before her arrest, Esposito attended the Exchange Club of Indian River County 100's Fifth Annual Black and White Centennial Masquerade Ball.
The ball's proceeds go to the prevention of child abuse.