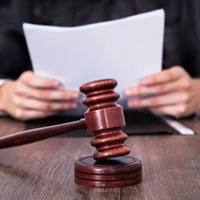 Five years after attack, trial again delayed
STORY BY CASEY STAVENHAGEN (Week of March 23, 2023)

Five and a half years after a typical day for the dining room staff at the Isles of Vero luxury assisted living community turned into a violent knife attack, the accused has yet to be tried for attempted second-degree murder.
The trial of 52-year-old Orville Roy Reid of Vero Lake Estates was set for next week.  But due to a scheduling conflict with an overlapping trial, jury selection for this case was reset for May 4. The case has now been continued 31 times.
As the kitchen staff prepared and served lunch to the community's residents in September 2017, police say Reid, whom they described as Jamaican, struck his co-worker Clive Alcott three times in the head with a large kitchen knife in front of three servers present in the kitchen, turning the blood-spattered floor, walls and driveway into a crime scene.
The accused assailant chased Alcott out of the building, according to witnesses, then fled the scene northbound on 66th Avenue in his gray Mazda SUV.
Alcott drove his blue Nissan east on State Road 60, but stopped the car in traffic due to his injuries, and was spotted by Indian River County Sheriff's deputies "covered in blood and had a bloody rag over his left eye," court records say.
Alcott lost consciousness as an ambulance arrived to take him to HCA Florida Lawnwood Hospital.
When interviewed at the hospital, Alcott told police he was in a "verbal confrontation" about Reid not helping him in the kitchen. One witness to the incident told police a resident had requested an order of food with no vegetables, to which the victim whispered something to Reid, spurring the attack with no further exchange of words.
Alcott suffered a chipped skull from what was described as an overhead slicing motion rather than a stabbing. All three witnesses, each interviewed the day of the attack, identified Reid and told police he chased the victim out of the kitchen with the knife.
The victim told police he and Reid had "issues in the past," according to Reid's warrant affidavit, but further details were not provided at the time.
Reid turned himself in to at the Indian River Sheriff's Office two days after the attack. He was released after posting $100,000 bail the next day and pled "not guilty" in October 2017. Reid was ordered not to return to the Isles of Vero – since renamed Discovery Village – and to have no contact with Alcott or the co-workers who witnessed the incident. 
After 21 continuances, Reid's bond expired in late 2020. His defense attorney, Bobby Guttridge, requested a reduction of bond, claiming "the bail set is excessive and tantamount to a denial of bail." The motion was denied and Reid posted another $100,000 in early 2021.
Guttridge could not be reached at press time for comment about the case.