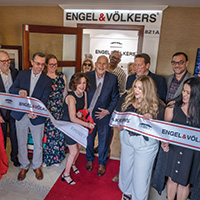 Hot island market attracts another major real estate brand
STORY BY STEVEN M. THOMAS (Week of March 2, 2023)
Photo: Engel & Völkers open their office on Beachland Boulevard.

Another top real estate brand arrived on the island last week when Engel & Völkers opened a stylish, Euro-modern office on Beachland Boulevard a block west of Sexton Plaza, debuting with an evening event for some 200 people.
Claire Higgins, broker of the franchise operation, and her husband and business partner, Robert Higgins, told Vero Beach 32963 that they and the corporate leadership of Engel & Völkers Florida know they are entering a highly competitive real estate market.
They believe they can succeed in part because of their brand's strong international reach and because of what Claire Higgins calls "the new Florida," where they see the pandemic migration continuing for the foreseeable future.
"We will get our share," said Robert Higgins, a veteran of the restaurant industry.
"The international component is our difference maker," Claire Higgins said. "A person who lives in Windsor came up to me at the party and told me, 'You have raised the bar in Vero.' I didn't have a chance to ask her exactly what caused her to say that, but I liked what she said!"
Although their business is new, Claire and Robert Higgins are deeply rooted in Vero. They began visiting in 1989 when Claire's parents bought a home in Sea Oaks, driving up from Boca Raton where they lived. 
They moved to Vero in 1999, and their four daughters grew up here, graduating from Vero Beach High School and "going on to good colleges."
"We got a covid benefit when two of our daughters moved back here with the ability to work remotely on a permanent basis," said Robert Higgins, who manages operations and finances at the new business. "We raised our kids here and now are raising our grandkids. We're definitely not carpetbaggers!"
Claire Higgins was an Estee Lauder executive for 14 years prior to jumping into real estate seven years ago, when she joined the luxury division of Keller Williams.
"After about four years there, I felt like I wanted to do more," she said. "I debated staying with Keller Williams and building a team, or getting my broker license and going out on my own. But I knew I didn't want to be entirely on my own, with just my name out there. I wanted a strong brand."
When she met top executives at the Engel & Völkers office in Naples – where the company opened its first U.S. office and has its Florida headquarters – both parties sensed synergy.
"They had been looking at Vero for a long time and wanted to be here," said Claire Higgins. "I think they were impressed with my corporate background as well as my real estate experience."
"They liked it that I've opened and run franchise operations, too," said Robert Higgins. "I know that a franchise doesn't mean reinventing the wheel. They have a system that has worked very well in many places and we believe it will work for us here."
The couple signed a franchise agreement with Engel & Völkers in November 2021 at the height of the pandemic boom, got their business license in July 2022, and hired their first agents and wrote their first contracts in October 2022.
Throughout that period, they were busy acquiring a broker license, finding a space and building it out, and recruiting agents – all with what they said was superb assistance from Engel & Völkers.
"I was so busy at Keller that it was months before I could step back and get my broker license but they provided a clear blueprint for what we needed to do with timelines and checklists. As long as we were checking off items, we knew we were on track."
The office at 821A Beachland Blvd. is mostly sleek white, with black accents and pops of red. There is a wall with international clocks showing the time in major cities, along with a world map showing the 31 countries on five continents where Engel & Völkers' 1,050 offices are located.
By the time they cut the grand opening ribbon last Thursday evening, the Higgins team had 16 agents, who they call advisors, plus office staff and a wall full of listing sheets.
They plan to grow their Vero office to "about 22 advisors and open a shop in Sebastian with another eight or so, for a total of about 30."
"We don't want to be huge," said Claire Higgins, license partner and managing broker.
The couple said they would focus most of their marketing efforts on the island, with advisors specializing in specific communities, but also pursue business on the mainland, where million-dollar homes are becoming common.
Engel & Völkers was founded in Hamburg, Germany, in 1977 by Christian Völkers who remains at the head of the company's global operations.
Engel & Völkers has approximately 275 offices in the U.S. today, including 43 in Florida, where the company does more than 30 percent of its business. The U.S. operation is run from national headquarters on Park Avenue in Manhattan.
Asked to describe the company and brand in one word, both partners said, "Bespoke."