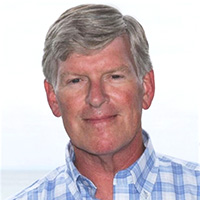 New GM at Sea Oaks brings love of arts to the community
STORY BY CASEY STAVENHAGEN (Week of March 23, 2023)
Photo of Kevin Sibbring.

As one highly regarded general manager retires from Sea Oaks Beach & Tennis Club after 37 years of service, the barrier island membership community welcomes a distinguished and innovative replacement in Kevin Sibbring.
The incoming general manager and COO brings a stellar 17-year track record to Sea Oaks from Lakeside, Ohio, and the 1,400-acre Timber Pines club community north of Tampa to fill the shoes of longtime leader Pamela Dawson.
Originally from Columbus, Ohio, and now in his second career, Sibbring, 62, got his start in community management in 2006 after serving as president of The Lakeside Association in Ohio, a historic, year-round Chautauqua community. That's where Sibbring honed his skills in programming and hospitality, or what Sibbring refers to as servant leadership to his community.
"We produced a 12-week program focused on arts and education and recreation. Chautauquas were kind of a mind, body, spirit thing before the term 'wellness' was ever created," Sibbring said. "It was 85 nights of evening entertainment. I'm passionate about the arts and that's what really excites me about moving to Vero Beach."
Sibbring's transition into community leadership came after an early career in the tech industry. Sibbring had worked his way up to vice president of global marketing for the business communications software firm Sterling Commerce before the company was sold to SBC.
In 2005, Sibbring met Dr. Robert A. Brymer, a Lakeside resident who taught in Florida State University's hospitality school. Brymer mentored Sibbring personally and handed down his knowledge of the hotel industry.
"I knew that Lakeside, at the time, was in need of new leadership that had a new vision for the community," Brymer said. "I felt that Kevin would be the right person to do that and I that I might lend some assistance in establishing a real emphasis on service and service quality for the residents and guests. I can't take credit for instilling that in Kevin; that's who he is. It defines him as part of his character."
Sibbring's "civic-mindedness," as Brymer referred to it, has been foundational in what he provides to communities. One such example was Sibbring's service to the Lake Erie Foundation, a body of water that is a veritable "poster child" for algal blooms – a malady that also plagues the Indian River Lagoon.
"Lake Erie looked like you just poured green antifreeze into the lake," Sibbring said. "I did a lot of state and national lobbying on behalf of the Great Lakes, so I bring that sensibility to Vero Beach."
Alongside the arts, education and community programming as displayed at the chautauqua, his passion for the natural world, such as hobby birding, nature photography and gardening has also served residents.
"Along with Bird Watcher's Digest, we produced the Midwest Birding Symposium and brought in about 2,500 people from all over the world," Sibbring said.
Brymer said Sibbring also took the arts programming at Lakeside and "put it on steroids."
"Kevin is the kind of person that will get involved with volunteering and get involved with the local arts of Sea Oaks, but also the local community around there," Brymer said.
Sibbring's predecessor at Sea Oaks, Dawson, worked her way up through community's organization, taking over as general manager in 2009. As property manager, she had guided the community through the hurricanes of 2004, and has overseen major renovations and modernizations to the community.
Sibbring said he has immense respect for what Dawson built in the Sea Oaks community.
"She's been there 37 years ... so she leaves quite a legacy," Sibbring said.
Sibbring said Sea Oaks – which is celebrating its 40th anniversary this year –  is characterized by its good people with philanthropic spirits. Those elements, on top of the breathtaking scenery, were prime attractors to the area for Sibbring.
"I guess I'm kind of ready to settle down. Moving to Vero Beach is going to be my last move," Sibbring said. "I'd like to serve Sea Oaks here for the next decade. I'd love to retire in Vero Beach, it feels very much like home to me."