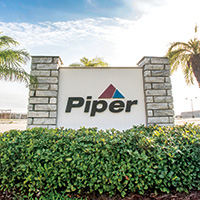 Piper flying high after navigating supply headwinds
STORY BY RAY MCNULTY (Week of March 2, 2023)

Piper Aircraft, the county's largest private employer with 1,100 locals on the payroll, announced last week it had enjoyed a successful 2022, delivering 15 percent more airplanes than the previous year, despite confronting supply-chain and workforce shortages.
The company, which was founded in 1937 and opened its Vero Beach plant in 1959, began this year with a backlog of orders for both its M-Class lineup – including its flagship M600/SLS model, a high-performance, six-seat, single-engine turboprop – and its wildly popular trainer aircraft.
The M-Class backlog is projected to reach deep into 2024, the announcement stated, while the trainer aircraft backlog is expected to extend into 2025 and beyond.
In addition, Piper saw existing flight school customers – such as ATP Flight School in Stuart; Spartan College of Aeronautics and Technology in Tulsa, Okla.; and American Flyers, which has locations in Pompano Beach, New Jersey, Texas and Arizona – grow their fleets.
The company also welcomed new customers, including Thrust Flight in Texas and Fly Gateway in Pennsylvania and Delaware, to the Piper Flight School Alliance.
"Growth in our two primary aircraft markets is of paramount important to Piper Aircraft," John Calcagno, the company's president and chief executive officer, said in a prepared statement. "Despite the supply-chain and labor challenges our industry faced this past year, we were still able to deliver our aircraft as promised, create valuable enhancements across our product lineup, and pass these improvements to our Piper dealer partner network and retail customers."
In 2022, Piper delivered 69 airplanes from its M-Class line: 19 M350, nine M500 and 41 M600/SLS aircraft. Forty-three were delivered domestically.
The airplane manufacturer also delivered 167 trainer aircraft, including products from its Archer, Seminole and Pilot 100i lines. Of that total, 150 were delivered domestically.
According to the announcement, 2022 also brought Federal Aviation Administration approval of the M600/SLS aircraft's minimum equipment list, which enhances its regulatory clearance for use in charter service.
Then, in the fourth quarter of last year, the FAA approved the M600/SLS for takeoffs and landings on unpaved fields, "thereby expanding the capabilities and value of the already-capable, eminently valuable aircraft," the company's announcement stated.
Last summer, Piper also launched its collaboration with CAE, a Canadian aviation company, to develop the technology to convert existing Archer training aircraft to electric power.
"CAE will convert two-thirds of its Piper Archer training fleet and will be the first to develop a curriculum for new pilots to train on the operation of the electric aircraft," Piper stated in a news release in July. "These advancements will significantly reduce carbon emissions and noise levels at tis flight schools around the world, while preparing pilots to operate green electric aircraft."
As 2023 began, Piper announced the integration of an "agile manufacturing robot" in its M-Class production line in its Vero Beach factory. The company also plans to introduce new software innovations to its M600/SLS aircraft.
In addition to meeting the demands of its 2022 delivery schedule, the company added to its Piper Brand Ambassador Program the L3 Harris Flight Academy in Sanford and longstanding customer North Star Aviation of Minnesota State University at Mankato.
Piper also awarded six aviation-focused college scholarships in 2022, with plans to add three more for high school students this year.