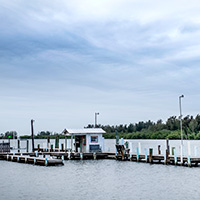 Renewed and improved Jones Pier area set to welcome visitors in May
STORY BY CASEY STAVENHAGEN (Week of March 2, 2023)

The Jones' Pier Conservation Area will welcome visitors once again this spring, with a replica fruit stand as its hub, the pier set to re-open in May, and a pioneer history museum in the works.
"The fruit stand was one of the first things we did on the site," said Wendy Swindell, an Indian River County conservation lands project specialist.
The fruit stand was a replica of the one the pioneering Jones family operated in the 20th century.
"It was completely in disrepair when we started working on this project in 2017, so we applied for a grant with the Department of Historical Resources and they funded building a replica," Swindell said. "The fruit stand was planned as sort of a hub for the site.
"The thought was, on the weekends we could open up the doors to the fruit stand and perhaps we would sell native plants," she said.
Renovations to the century-old Jones Bungalow House will be ongoing when Jones Pier reopens to the public. "It took us a while to get a contractor on board to elevate the house," Swindell said.
The exterior work beyond the house was completed at a cost of $1.5 million with the help of nine grants from different agencies. Other improvements include a 4-acre salt marsh and a 1-mile hiking trail. 
Once the Jones Bungalow House is elevated, it will be refurbished, fitted with artifacts and converted into a museum. Longtime County Historian Ruth Stanbridge said the belongings of Richard Jones were bequeathed to the historical society to benefit the public.
"We could've moved the house back. Our pioneers would just put a house on two or three logs and drag it back to wherever they wanted to," Stanbridge said. "But in the case of Jones Pier, I went down to Fort Capron, and the houses were elevated. I took a few pictures for Wendy and them to tell them that would be the way to do it."
Construction of a picnic pavilion and other ancillary projects began after Hurricane Matthew in 2016, with groundbreaking on a second phase in 2019. 
The picnic pavilion was dedicated to Stanbridge, in recognition of her 35 years of work for the State of Florida in the Office of Environmental Services, where she was instrumental in saving historically and environmentally important properties around the state from development – including areas along Jungle Trail.
"I am still not believing it. I had a beer named for me one time and then the pandemic came along and we never got to ... celebrate the beer," Stanbridge said. "The picnic pavilion was quite an honor and it was totally out of the blue."
The Town of Indian River Shores will pay for, install and maintain a boat lift at the dock for "law enforcement and other maritime operations," according to a January use agreement.