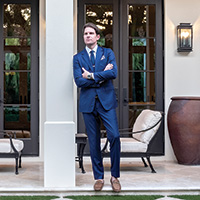 Third-generation realtor 'wildly bullish' on island market
STORY BY STEVEN M. THOMAS (Week of March 9, 2023)

Plenty of people are worried about the real estate market right now.
But Premier Estate Properties agent Lange Sykes told Vero Beach 32963 he "is wildly bullish on the future of Vero Beach real estate," especially on the barrier island.
He sees 2023 as similar to 2013 – a time when the real estate market still felt shaky in the wake of the Great Recession and dramatic decline in property prices that began in 2008.
Then as now, people were worried about the strength of an uncertain recovery and fearful about what the future might bring.
Those fears were unfounded.
Between the first quarter of 2013 and first quarter of 2020 – just prior to the pandemic real estate boom that exploded between fall 2020 and summer 2022 – property values in Florida increased by 70 percent, according to the Federal Reserve Bank of St. Louis.
So, even before the pandemic boom – a once-in-a lifetime anomaly unlikely to return – property prices in Florida had a great run.
"That same opportunity is here again, right now, and I am encouraging my clients to acquire property," Sykes said.
"Savvy investors who anticipate rather than follow the market are quietly investing in Vero Beach luxury real estate as we speak as a hedge against inflation, and I believe their property acquisition now will realize a great future return on investment," Sykes said.
"The safety and security of our town, the understated elegance we have, the low population density, sound local government and stunning natural environment ... are drawing population growth to Vero Beach as a whole. Buyers feel confident investing in our community, as they should."
Sykes is not a Pollyanna. He sees the same market challenges that everyone else sees but believes that – despite headwinds and short-term fluctuations – powerful forces supporting price growth here remain in play and will prevail in coming years.
"Over the past two months, activity in the high-end Vero Beach luxury market confirmed what we began to experience last year," Sykes says. "The market has shifted from a strong seller's market to a buyer's market.
"Nevertheless, it is still an ideal time for sellers to list their properties during this high selling season, with the influx of buyers from Miami, the Northeast, California, Canada, Europe and South America flocking to Florida in general, and more specifically to our barrier island. There is demand for real estate in Vero Beach.
"During the pandemic, there was rapid [price] growth during a 24-month period that normally would have taken 10 to 15 years. That level of activity just cannot sustain itself and we are experiencing a normal cooling-off period that actually is very healthy in order to avert a major correction later on."
Sykes sees what is happening now – with low inventory, moderating prices and decreased sales volume – as a minor correction, the market "taking a breather for the next year or so," and believes this lull presents an opening for smart investors.
"Florida as a whole is a magnet for the ultra-wealthy and those seeking a quality lifestyle and a tax advantage," he says. "That hasn't changed."
His assessment is backed up by industry sources.
Almost a third of high-net-worth "investors are looking at property investments to provide an inflation hedge and diversification" in 2023, according to The Wealth Report, an in-depth annual publication produced by Douglas Elliman and Knight Frank.
That includes 32 percent who plan to increase their holdings in residential real estate.
The report goes on to state that the sunbelt, where Vero Beach basks happily, was the leader in price appreciation in the U.S. last year, with "wealth preservation, hybrid working and early retirement themes supporting resort markets."
Of course the steep increase in island home prices over the past couple of years is one reason some have doubts about future price appreciation.  Sykes doesn't agree.
"Even though prices and carrying costs are up here, due to insurance and higher interest rates, an outsider, someone from South Florida or from a high-tax state in the Northeast or California, looks at values here in conjunction with the quality of life we have and can't believe what a great value it is," he says.
"From an investment standpoint, when one compares the cost of acquisition of property here and the lifestyle it affords, compared to other markets in Florida, we have tremendous value-add."
Sykes has a strong vantage point on the Vero Beach market that makes his opinion worth serious consideration.
He is a third-generation island resident and realtor whose grandmother, Esther Stroud Paxton, started her career selling property in New York before moving to Riomar in 1969. Here, she joined Alex MacWilliam as an agent, selling homes on the barrier island until she was 86, according to Sykes.
His mother, Carolyn Lange, joined MacWilliam as an agent in 2003 and continues her successful career there today.
Lange Sykes grew up on the island – swimming, surfing, boating and watching his mother and grandmother list and sell houses, listening in on the details of deals and hearing about market ups and downs before heading off to Pepperdine University in Malibu, Calif.
There, while surfing between classes, he met and struck up a friendship with Chris Cortazzo, who is generally known as "the king of Malibu real estate." Compass, where Cortazzo hangs his hat these days, says that he sold $1 billion worth of property in 2021 and has a lifetime total of $8 billion in luxury sales.
"As Chris and I became friends, I was afforded the opportunity to see how business and best practices at that level were conducted. I came to understand the profile and mindset of the ultra-wealthy," Sykes says.
Sykes moved back to Vero in 2009, got his Florida real estate license and went to work alongside his mother at Alex MacWilliam, where he says he received "additional guidance on ethical business practices."
In 2020, he moved to Premier Estate Properties, which sells homes priced at $1 million and up exclusively. "I knew immediately that Premier Estate Properties was exactly the right platform to springboard my luxury real estate career, and the last three years have borne that out," says Sykes.
"As a third-generation Vero Beach native and Realtor, as well as a  former vice mayor, Lange Sykes has always been committed to making a difference within his community," Joe Liguori, co-owner of Premier Estate Properties, told Vero Beach 32963.
"Lange's ongoing success as a luxury estate specialist in Vero Beach, which is deeply rooted in his homegrown perspective, has thrust him into the very top tier of real estate professionals nationally."
"I have been at this long enough now to have sold the same properties multiple times and to have the children of earlier clients be my clients now," Sykes said.  "What we have here in Vero Beach and on the barrier island is extremely valuable and unlike anything else anywhere in the country, in my opinion.
"The more uncertain the outside world, the more precious our quality of life becomes. I don't have a crystal ball, but everything in my gut tells me the future of Vero Beach is very bright."