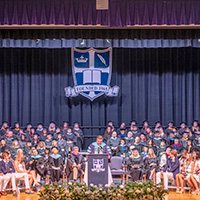 49 grads feted at St. Edward's 50th commencement
STORY BY MARY SCHENKEL (Week of May 25, 2023)

With pomp and circumstance, the Class of 2023 at Saint Edward's School celebrated a milestone anniversary with the school's 50th Commencement ceremony. 
In his welcoming speech, Jack MacMullan, Associate Head of School/Head of Upper School, said it would have provided lovely symmetry if there were 50 students in the graduating Class of 2023, but alas, he quipped, it was a class of 49. 
MacMullan said the 2023 graduates had overcome many obstacles, most notably the pandemic, which had impacted their first three years of high school with frustration and uncertainty, highs and lows.
"For the first time in a long time, this year felt like normal, with the return of numerous traditions and even the start of a few new ones," said MacMullan.
Head of School Stuart Hirstein recognized the "small but mighty" faculty, who do a remarkable job leading the school.  Addressing the Class of 2023, he offered 12 pieces of advice, including that they should live life to the fullest, but in such a fashion as to make the lives of others better.
The seniors selected a married couple as this year's faculty guest speakers; Jaclyn and Scott Mohr, who met at St. Edward's as teachers, according to Jaclyn, "right here on the senior patio, the pinnacle of romance."
The couple spoke to the class with humor and warmth about what they could expect in the coming years and emphasized that the celebration was an equally important moment for their families.
"I'm confident that each family member in the audience has been on an emotional roller coaster in the last few weeks," said Jaclyn Mohr.  As students walked across the stage to receive their diplomas, she said, their parents would likely have visions of them as infants, children and young adults flashing through their minds. 
 She advised them to realize their own self-worth, to know how truly irreplaceable they are. Scott Mohr agreed, telling them to "give your best, give to others, but also give to yourself by taking care of yourself." 
Lauren Grace Chesley, recipient of the Head of School Award, was chosen by her classmates as Senior Class speaker. On behalf of them, she acknowledged the support of families, friends and faculty.  
"We've got a good group 2023. I can't wait to see where life takes each of you," said Chesley. "All of your high school memories have officially been made. Cherish them always."