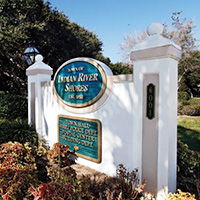 Bitter utility ruling has Shores mulling options
STORY BY LISA ZAHNER | NEWS ANALYSIS (Week of May 18, 2023)

The Indian River Shores Town Council will hold a closed or "shade" meeting with its attorneys on May 25 to talk in private about what the town's next move might be, in light of a disappointing ruling in favor of the City of Vero Beach by the Fourth District Court of Appeals last week.
The three-judge panel which heard oral arguments from the parties on April 4 issued an opinion affirming the lower court's summary judgment ruling that Vero did not violate a 2012 franchise agreement with the Town of Indian River Shores.
The court emphasized that Vero has the authority under state law to set its own rates, and said the Shores did not present evidence to counter Vero's claims that its utility was losing money by matching Indian River County rates as promised in the franchise agreement.
Vero City Manager Monte Falls said of the win, "The City of Vero Beach is pleased with the decision of the Fourth DCA, which affirmed the earlier decision of Circuit Court Judge Janet Croom. Each of these decisions were correct on the facts and the law. We look forward to the Fourth DCA decision becoming final, ending this dispute and the unnecessary use of taxpayer resources."
Will the Shores push the matter all the way to the Florida Supreme Court? Or will its legal team devise some creative alternative path? Is it time to drop the matter and focus on negotiating a deal with Indian River County for water-sewer service when the franchise agreement with Vero expires in 2027? Those will be some topics likely on the table next week in what's likely to be a dour meeting of town officials.
"Of course, I am extremely disappointed with the appellate court's decision. The decision lets stand, and rewards, the city's blatantly immoral conduct. The city made a solemn contractual promise to the town knowing it would not honor its promises. This shameful conduct should give enormous pause to anyone considering a business relationship with the City of Vero Beach. The town's legal counsel is considering the next appropriate steps to take to remedy this injustice," Shores Mayor Brian Foley said on Monday.
But due to the constraints of Florida's Sunshine laws, council members won't be allowed to discuss Vero's double-digit water-sewer rate hikes imposed on town residents in January.
"That's not in litigation yet," Shores Town Attorney Pete Sweeney said of the rate hikes imposed upon the Shores' utility ratepayers in January.
Four months since the first bills arrived charging 22 percent more for sewer service than in 2022, hiking the total residential bill by an average of 15 percent, Indian River Shores has not yet taken Vero to court for what town officials call a separate breach of the Shores' 2012 water-sewer franchise agreement with Vero.
"The attorney-client meeting, or 'shade' meeting as some call it, will be limited to the parameters as allowed by Florida Statute section 286.011(8) in the matter of appellate case number 22-1646, Town of Indian River Shores v. City of Vero Beach," Sweeney said.
The imposition of Vero's "One Rate" plan is not a matter being actively litigated, despite the fact that both Mayor Foley and Councilman Bob Auwaerter have said the rate increase clearly violates the 2012 franchise agreement.
In that contract, Vero promised to match Indian River County Utilities rates in order to gain a competitive advantage over Indian River County officials who were, at the time, also pitching for the Shores' utility business. But now Vero officials say it can't afford to match county rates, and that it would violate state law to force other ratepayers to subsidize cheaper rates for Shores customers.
"They are related, but legally they are separate and distinct," Sweeney said of the two separate times Vero did not match county rates for Indian River Shores.
The appellate case centers around a 2019 dispute over reuse irrigation rates only – not water-sewer rates. It stemmed from a county decision to cut its own reuse irrigation water rates by two thirds, and Vero not following suit.
The Shores filed a breach of contract suit, which triggered mandatory mediation, which failed miserably. Attorneys on both sides began taking depositions and collecting discovery documents, but in October 2021, Vero asked for a final summary judgment to conclude the matter without a trial.
Circuit Court Judge Janet Croom granted Vero's request and ruled in favor of the city on the basis of the pleadings and case law presented, plus a hearing conducted over Zoom.
To get its day in court with current and former city officials being called as witnesses and records of the 2012 contract negotiations being admitted into evidence, the town could file a separate lawsuit taking Vero to task about the January rate increases.