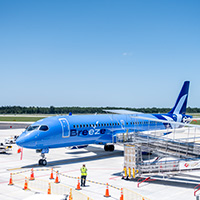 Breeze Airways, popularity here flying high, will expand service to Northeast
STORY BY RAY MCNULTY (Week of May 4, 2023)

Three months after Breeze Airways arrived in Vero Beach, the budget airline has decided to expand its service to offer daily flights to and from Hartford, Conn., and Westchester County, N.Y., starting in September.
Breeze currently flies up to five times per week to those destinations, as well as to Norfolk, Va., but company officials were so impressed by the strong response to its service here that they've added flights.
"We always have high expectations when we enter a new market, so we were hoping we'd be successful," Breeze spokesman Gareth Edmondson-Jones said last week. "But, yes, our flights are selling really well there."
The initial success could prompt Breeze officials to add other destinations, but Edmondson-Jones said he wasn't aware of any plans to do so this year.
"That doesn't mean it couldn't happen, though," he added. "Right now, our schedule goes through mid-November. We'll see what happens after that."
Breeze's seasonal "breeze-through" service between Vero Beach and Norfolk – the flight includes a brief stopover in Westchester County before continuing on to Virginia – is scheduled to end in September, but Edmondson-Jones said it probably will return the next summer.
Vero Beach Airport Director Todd Scher said he expected Breeze's flights to and from Hartford and Westchester County to be well-received here, especially in the absence of Elite Airways, which offered service to Newark, N.J., and Portland, Maine, but abruptly and mysteriously halted operations last June.
But even he was surprised by the early turnout.
Scher said more than 11,000 passengers have flown into and out of Vero Beach since Breeze began its service on Feb. 2, with that number split evenly between departures and arrivals.
To put that total in perspective: In all of 2018, which Scher said was among the airport's busiest years for commercial passenger service, Elite flights boarded about 10,000 departing passengers here.
According to Scher's presentation to the city's Airport Commission last week, Breeze flights have operated at an average of nearly 90-percent capacity and within 30 minutes of their scheduled departures times.
"Obviously, Breeze has exceeded expectations – and now they're going to add flights," Scher said. "We've never had daily service before, so it'll be interesting."
Scher described the airport's passenger facilities as "quaint," as the baggage-claim area remains outdoors and under tents, which he said could cause travelers some angst during the summer heat and thunderstorms.
Using state funds, however, the airport plans to convert – over the next two years – the banquet hall at C.J. Cannon's restaurant into a passenger exit and, possibly add an indoor baggage-claim area.