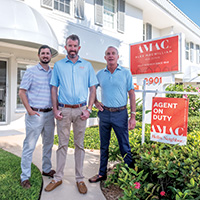 'Buzz' created by AMAC rebranding pays dividends for longtime island realty firm
STORY BY STEVEN M. THOMAS (Week of May 18, 2023)
Photo: Kyle Von Kohorn, Alex and Buzz MacWilliam.

In the midst of the pandemic, Alex MacWilliam Inc., the oldest real estate brokerage on the barrier island, decided it needed to modernize its brand.
In mid-2021, the company hired a top brand consultant and came up with a new look and fresh marketing approach, with a bold orange four-letter logo – AMAC – and strong emphasis on the terms neighbor and neighborhood.
The initiative paid off.
Based on data for the first four months of 2023, the company has gained substantial market share since the rebranding and its dollar volume is up nearly 20 percent over the first four months of 2022 – a lucrative period when the pandemic real estate boom was still underway.
"Going into the year, I was afraid all the challenges in today's economy would hinder our sales," said company president Alex "Buzz" MacWilliam III. "Every day, we listen to the news and every day we are afraid of another bank failure or a recession or the debt ceiling and I thought all that would shake confidence and reduce demand for homes.
"But it hasn't had that affect for us. January through April, our unit sales were down 16 percent, but our dollar volume was up 18 percent, from $85 million last year to $101 million this year. And we leapfrogged over several of our competitors in market share."
MLS data aggregated by real estate analytics firm Terradatum shows that the company moved from fifth or sixth a couple of years ago to third in overall market share for all types of property in Indian River County in the first four months of this year.
Crucially, the company was also third in luxury sales, with more than 10 percent of the million-dollar-and-up sales on the island and across the county.
It also sold houses quicker than any other major brokerage with an average of just 56 days on market before closing.
"Our rebranding is starting to mature," said MacWilliam. "People are more aware of our brand as a family-owned company with deep local roots. The new eye-catching colors and modern logo, along with our videos that are widely seen on Facebook and YouTube and other platforms have had a big impact in getting new clients and sales agents."
"We asked two agents we hired last week how they heard about us and they said they fell in love with our YouTube videos," said Alex MacWilliam IV, Buzz MacWilliam's son, whose nickname since childhood has been AMAC.
The videos, which run as pre-content ads on YouTube, feature a mix of historical images of Vero Beach and contemporary vignettes with Alex IV and others talking about the company's history and philosophy in lively scenes at recognizable Vero locations.
"Welcome to our neighborhood," Alex IV says in one, emerging from Corey's drugstore onto a busy sidewalk across the street from the company's office on Ocean Drive.
The core message of the videos and the rebranded marketing effort is that Vero Beach is Alex MacWilliam Inc.'s neighborhood, where its owners and agents have been greeting newcomers, building relationships and selling houses for 74 years.
Buzz MacWilliam has been president of the company since 1980 and has firsthand knowledge of every real estate up and down over the past 43 years, starting with the 14 percent-18 percent interest rates in the 1980s, through the doldrums of the 1990s, to the epic boom and bust in the early 2000s, right up to what he calls the "totally unprecedented" market brought on by the pandemic.
"The current market is still on a positive upward trend," he said in his office last week. "The number of sales is down ... but prices have remained strong and are still increasing at a modest rate in most areas of Indian River County.
"History teaches us that a market correction is bound to happen sometime, but I doubt it will be in the second half of 2023."
Whatever happens in the market going forward, the company is ready to continue adapting to changing times, same as it has for more than seven decades, according to Kyle Von Kohorn, a member of the management team.
"Adapt is the key word and concept," he said. "Alex MacWilliam has been able to succeed all these years by being flexible and adaptable, and that is our philosophy going forward."