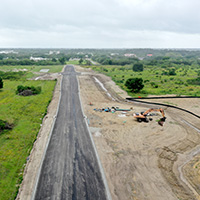 DiVosta launching 200-home subdivision near Cleveland Clinic
STORY BY STEVEN M. THOMAS (Week of May 4, 2023)

DiVosta Homes is launching a new 200-plus home subdivision just a stone's throw from Cleveland Clinic, complete with a new road that will connect 41st Street to 37th Street right in front of the hospital.
The project, named Costa Pointe, will be built on prime real estate east of U.S. 1 that was once citrus groves and now lies just north of the growing 37th Street medical corridor.
"There isn't a lot of new home supply here and Costa Pointe is in a great location, close to healthcare and the beach," said Brent Baker, Southeast Florida Division President for PulteGroup, DiVosta's parent company.
DiVosta already has two large subdivisions underway in Indian River County – the Preserve at Waterway Village and Harbor Isle – but Baker believes there is demand for another one.
"Migration to Florida is continuing and we are seeing very healthy demand throughout the region, especially in Vero Beach," Baker told Vero Beach 32963. "Our communities at Waterway Village have really established our brand here. The realtors know we have a great product and the ability to execute on our projects."
Construction of Costa Pointe, located between 41st Street and 37th Street, will begin with approximately 100 single-family houses and villas, with prices starting in the $400,000s, according to DiVosta's website. Baker said the second phase will raise the total to 202 homes.
Amenities will include "a 3,300-square-foot clubhouse with a community room, fitness center, a grand hall and a resort-style pool."
"Costa Pointe will have a friendly vibe to match the laid-back lifestyle of Vero Beach," said Baker. "With the amenities onsite and all the attractions nearby, the community will be ideal for active adults who are retired or nearing retirement."
As part of the development deal, which required rezoning the property from MED (medical) to PD (planned development), the developers were required to grant a wide north/south right-of-way and build 11th Drive, which will connect to 37th opposite the planned Aviation Boulevard Extension, which has been in the works since 2019.
When the roadwork is complete, a continuous route will extend from Aviation at U.S. 1 to 41st Street, reducing traffic congestion along 37th Street's busy medical corridor, according to Ryan Sweeney, the county's chief of current development.
The history of the land where Costa Pointe is being built stretches back into Vero's golden citrus-producing past, according to a county staff report provided by Sweeney that details the project's genesis.
"The entire project site consists of abandoned citrus groves that have since been cleared," the report states.
The groves belonged to the Russells, one of Vero's early citrus families, which was led in part by Virginia Russell, whose exuberant and charming life is detailed in a 2017 obituary on Legacy.com.
"She was born in Palm Beach on September 20, 1922, a true native Floridian," according to the obit. "In her youth, she played in her father's citrus groves, and in the native Florida cypress hammocks, swamps and beaches. She was often seen in town, sporting a diamond ring on her toe, and a pet green tree snake on her wrist as a bracelet. Her free spirit and unconventional style stayed with her all her life."
Graduating from college with a degree in psychology, she lived in Chicago, New York City and Miami, working variously for the Chicago Institute of Psychoanalysis, New York modeling agencies and Eastern Airlines. In 1953, at the age of 31, she married Hugh Everett Russell and settled in Vero, where the couple "raised four children and citrus."
She was a member of Riomar Bay Yacht Club, John's Island, Windsor and Quail Valley, and pursued a wide range of passions, from gardening, tennis, hunting, fishing and boating to "needlepoint, decoupage, painting and jewelry design," according to her obituary.
Two years after her death, in 2019, the Planning and Zoning Commission granted the Virginia W. Russell Family Limited Partnership "conceptual site plan and administrative permit" approval to build as many as 624 multifamily units on the 78-acre Costa Pointe tract, which at that time was called Harbor Bluffs.
"After that approval, the applicant was approached by a homebuilder (PulteGroup) that expressed interest in building a smaller number of single-family homes," according to the staff report.
Pulte took the project through the rezoning and entitlement process needed for a planned development, working with the Russell partnership.
"It was part of the deal that the Russells had to build the connector road," Sweeney said.
When all the permits and entitlements were in place, DiVosta purchased the land for the first phase of Costa Pointe last month, paying $3.17 million for 29 acres in a deal that closed on April 18. Baker said DiVosta will be closing on the remainder of the land soon.
Site preparation is underway, with the new road, 11th Drive, paved from 41st Street almost to 37th Street. "We will start model homes in fall and open for sales in spring 2024," said Baker.